SevenLog is one of Conqueror's newest members in Africa covering Tema-Accra. We recently sat down with their Business Development Executive, Ama Agyewaa Agyei, to find out the history behind the company and the challenges facing freight forwarders in Ghana.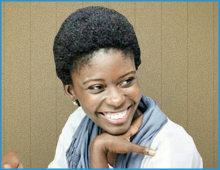 Q. SevenLog is a fairly new player in the industry being just 2 years old and yet is a big name in Ghana, what has been the secret to its overnight success?
A. I wouldn't call it overnight success really. It is a success story still being written even after two years. All the members of the Seven Log family had prior experience in different fields of the industry before being carefully handpicked to make a difference in Ghana's maritime and logistics industry. From inception, we all bought into the dream and worked tirelessly to deliver only the best in quality service for the customer (sometimes even at our expense).
Q.Can you tell us the significance of the name SevenLog? 
A. Well first, we specialize in seven areas in shipping and logistics. Also, a look at the African map shows it is shaped like the figure seven. On our rendition (logo) which includes the number 7, the seven is drawn from Ghana, our location, across the map and downward. It is our dream to cover the African continent with time. We also coined the 7rs of logistics to cater to the needs of the customers- Delivering the Right product to the Right Customer at the Right time at the Right place in the Right condition in the Right quantity and at the Right cost.
Q. Does SevenLog specialise in any particular services?
A. Yes we do, we specialize in Shipping agency, Customs clearance, Warehousing, Trucking, Shore Handling, Stevedoring and Material Logistics. Thankfully we continue to prove that Jack can be a master of his many trades.
Q. What would be SevenLog's most memorable/significant shipment? 
A. That would be chartering an airplane to move some containers of army material that were wrongly discharged in Tema, to Yaounde. We had barely 24 hours to pull that off due to the sensitivity of the cargo, but we did. It wasn't easy, but we did.

Q. What are the biggest challenges facing freight forwarding in Ghana at the moment?
A. At the moment, port congestion is the primary concern. The port requires serious expansion to cope with the increasing demand with regards to sea freight. The port authority is well advised and we believe measures are being put in place in that regard. Undeniably, there are also bottlenecks here and there with regards to customs clearance procedures and delays in cargo inspection due to the increased traffic through the scanner.
Q. How does your team manage and meet these challenges?
A. We are a gold member with Customs and the Destination Inspection Companies. This translates to reduced turnaround time for vessels we cater to, and facilitation of shipments through the otherwise lengthy process. As shipping agents, we have built good relationships with the port authorities, regulatory bodies, as well as with our competitors. In Ghana and other African countries, importance is placed on socio-cultural practices and traditional values which come in very handy when you have a job to do.
Q. What are SevenLog's medium to long-term goals? 
A. It is SevenLog's aim to be the most reliable logistics partner locally and internationally. We hope to start our global expansion with West Africa and provide quality industry specific solutions to all our clients worldwide. At the moment, we have offices and facilities spread across all Ghana's major trade ports. That's a good start I guess.
We invite all members with shipments in Tema / Accra to get in touch with the team. 

Ama Agyewaa Agyei / Business Development Executive