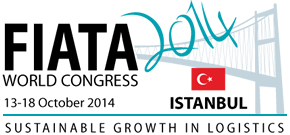 Ekol is proud to announce that it is the main sponsor for the FIATA World Congress 2014, the biggest event in the global logistics calendar. The event is being held from 13th-18th October 2014 in Istanbul and organised by UTIKAD (Association of International Forwarding and Logistics Service Providers).
The motto of the FIATA 2014 World Congress is 'Sustainable Growth in Logistics' the ultimate aim of the sector it welcomes.
Therefore to match with the motto, organisers have decided on these aims for delegates.
 Establish and develop new business relationships
• Meet with their target audience and potential customers
• Expand your Agency network and increase your market share
• Know the Sponsorship and firms
• Learn about the latest logistics trends & opportunities that will occur in the future
Ekol invites you to attend the FIATA World Congress 2014!

Devrim Koray / Customer Relations Manager