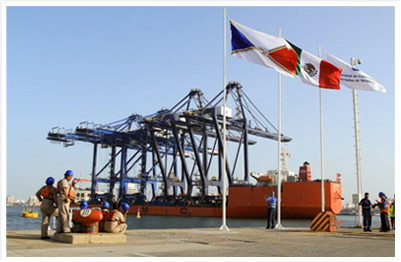 Back in June this year, Welldex Logistics, Conqueror's exclusive agent in Manzanillo and Veracruz, were asked by Hutchison Port Holdings (HPH) to handle the customs clearance of its most recent acquisition; two cranes worth USD$20,000,000 that form part of the Port of Veracruz Container Terminal's (ICAVE) revamp. The importance of this shipment can't be emphasized enough as the cranes form a fundamental part of the port's development, increasing the terminal's productivity by 30%.
"Each and every day at Welldex Logistics, we look to increase our capabilities by taking part in challenging experiences such as this, all with the purpose of providing our partners and clients with a better service and constantly evolving solutions. We look forward to developing such projects with all of you and 'carrying your dreams to distant places'," said Itzel Laurean Sanchez, Welldex' Sales Manager.

Conqueror invites all agents with shipments in Veracuz and Manzanillo to get in touch with the team.
Brenda Ruiz, General Manager