We are pleased to announce CQR Tallinn member, Europiir Logistics OU has been awarded an Excellent (AAA) rating by the credit company Krediidiinfo AS (which is the Estonian arm of the Creditinfo International Group.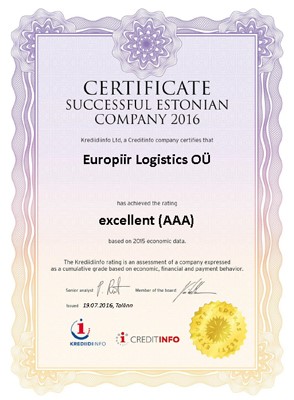 AA rating is the most sought after accolade with the scale grading a AA rating, as very good and a single A, as good. As the data is independently drawn from 2015 economic data this accreditation of excellence for Europiir Logistics is a true reflection of the dedication of the team to create a growing company. They have stayed true to their founding principles of improving the efficiency of the company in tandem with the improvement of customer service and to always work to improve and optimise all the elements of the company.
If you are looking for a shipping partner in Estonia, then why not get in touch with CQR TALLINN.