"Freight Forwarders

can create 

ma

rkets and demand, facilitating the trade cycle all over the world.''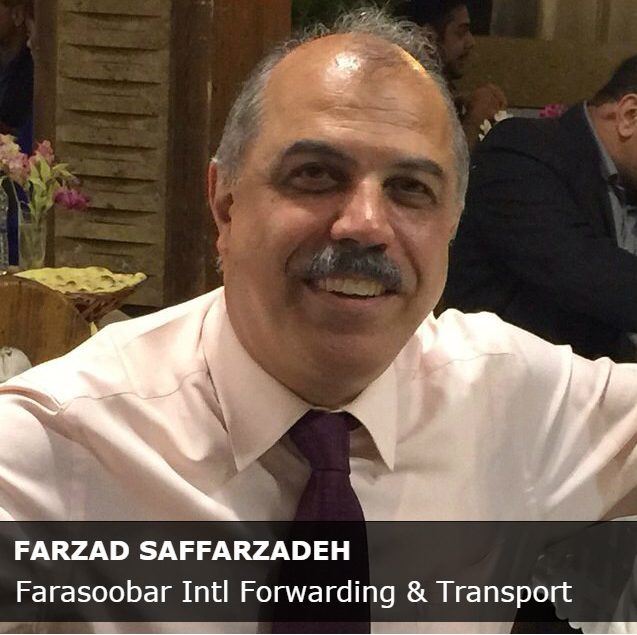 This week we have interviewed Mr. Farzad Saffarzadeh, CEO of Farasoobar Int'l Forwarder & Transportation Co, CQR Tehran, who talks about the journey of his company and about the advantages of operating from Iran.
1. What prompted you to venture into the freight forwarding industry?

A. Actually, I started freight forwarding with my elder brother who acquainted me with the alphabets of this business. From 2005 I organized my own setup under the Farasoobar Int'l Forwarder and Shipping Agency flag and have now been in this field for over 28 years. I have been able to explore and show my counter parts how freight forwarders have a very important role in the industry in each country and that it's not a simple job of just selling freight. Freight Forwarders can create markets and demand, facilitating the trade cycle all over the world.
Q. Can you shed some light on the geographical importance of Iran?

A. We have an inherent advantage due to the Persian Gulf's connection to CIS, Afghanistan and Iraq, as well as to the South Quafqas area and Russia. We have about 670 Km of the coastal border with the Caspian Sea in the North connecting the Bandar Anzali and Amirabad ports to Aktau, Turkmenbashi, and Astrakhan. On the south of Iran we have 1,770 km coastal border connecting the Oman Sea and the Persian Gulf. The unique location of the country makes all modes of transportation (air, sea, road or rail) possible.
Q. Tell us something about the rail network in your country.

A. Several rail projects are in the pipeline to upgrade and complete the current railway network infrastructure. Currently we can send shipments by rail from Bandar Abbas to Kazakhstan, Uzbekistan, Tajikistan, Kyrgyzstan and Turkmenistan. There are also rail links up to Astara Iran and the Russia rail network is connected up to Astara Azerbaijan and hopefully in the near future the rail connection will be finished between Astara Iran and Azerbaijan. The South Quafqkas rail connection is now possible up to Yerevan and liner containers can be sent from European ports up to Yerevan and then by truck to Iran. We also have rail links to Europe through Turkey's rail network via our western borders, this also can be connected to the CIS by changing wagons.
Q. Can you give us a concrete example of Iran's route advantage?

A. Well.. When we ship containers from Bandar Abbas to Baku the trucker should drive about 2270 km, out of which 1944 km are in Iran. The same advantage exists for other destinations. The other advantage is that we move containers by the same trailers all the way to their final destination and return empty containers back to Bandar Abbas. This safeguards the goods against multiple loading/unloading in transhipment.
Q. Can you give me some examples of project cargo you have handled in the recent past?

A. Please see the following photos of some projects we have handled via Iran to CIS. The latest one consisted of two girders from Bandar Abbas to Baku.


Q. Is customs clearance in Iran normally done in the port for inland bound cargo or can it be done at the final destination, say Tehran?

A. Final customs clearing can be done either at the port of arrival or at any domestic inland destination as a bonded shipment, subject to the destination's customs having the authority to accept the relevant goods.
We welcome all agents with shipments to/from Tehran and Bandar Abbas to get in touch with Farasoobar Int'l Forwarder and Transport.