The Coronavirus pandemic has wreaked havoc on the supply chain industry, as the operations of a vast number of major ports and airports have been affected worldwide. As such, shipping companies are currently required to comply with various measures which are causing severe disruptions in the industry.
However, on the bright side, it should be noted that at Conqueror Freight Network, we are offering a generous reward program that can help you as a member to save costs on your annual membership fee.
Referral programme:
All you would have to do is refer other qualified and reliable freight forwarding agents with whom you have been cooperating. In doing so, you will earn a 25% discount reward on your annual membership fee for every recommendation which leads to the successful admission of a new member. What's more, you will be able to keep working with them within the safety of the network.
You have nothing to lose and plenty to save, up to even 100% of your membership fee if you recommend us 4 reliable agents.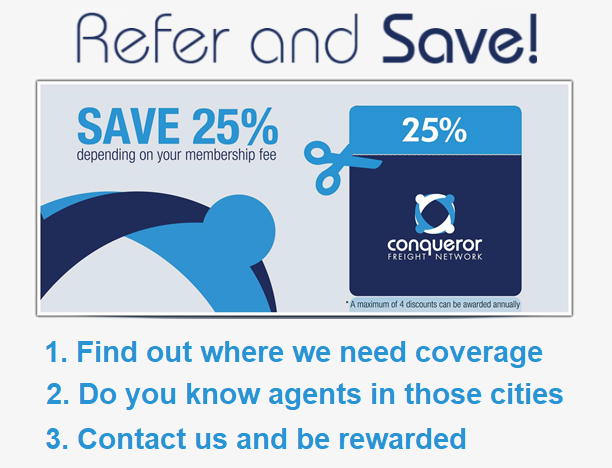 STEP 1: Check the cities that are currently open by visiting our Territories and Fees page and tell your partners about Conqueror and its benefits.
STEP 2: If they are interested, just send their contact details to information@conquerornetwork.com.
STEP 3: As you did, they will need to pass our rigorous selection process. Once they become members, you will obtain your bonus.