The problem of lost containers
Recent researches suggest that over tens and thousands of shipping containers are lost in the ocean on a yearly basis. At the moment, the authorities found tons of containers gliding beneath the waterline. According to a 2020 report by World Shipping Council, roughly 1,382 containers are lost in the oceans annually.
Earlier this year, the Evergreen Machine container vessel lost 36 containers because of an encounter with bad weather conditions. The maritime industry surely remembers the case of the One Apus cargo ship. Last year, this California-bound ship lost 1,816 containers before hitting the shores of Kobe, in Japan. Events like these clearly demonstrate the need for greater container visibility and the ability to track every container.
Weather is the most important factor that contributes to the loss of thousands of containers every year. Apart from bad weather, other reasons behind the loss of containers include improper handling, lack of supervision, and bad stowage.
What happens to the lost ocean shipping containers?
The shipping containers are not really water-proof which is why they sink. However, we cannot tell how long it takes for the containers to sink. It depends on the kind of cargo within the container and the material of the container. While there are containers that sink immediately, some are known to float in the seas for as long as 15 months.
The containers carrying light, and low-density shipments are generally known to float for a longer time. On the other hand, the reefer containers that are way more tight can float till it breaks or gets disintegrated. Containers that fall into the ocean from low height flow for a long time than the ones that fall from heights. This is why containers that fall from barges and small sea vessels can be recovered before they sink. However, containers that fall from the large container ships usually sink as soon as they touch the water surface.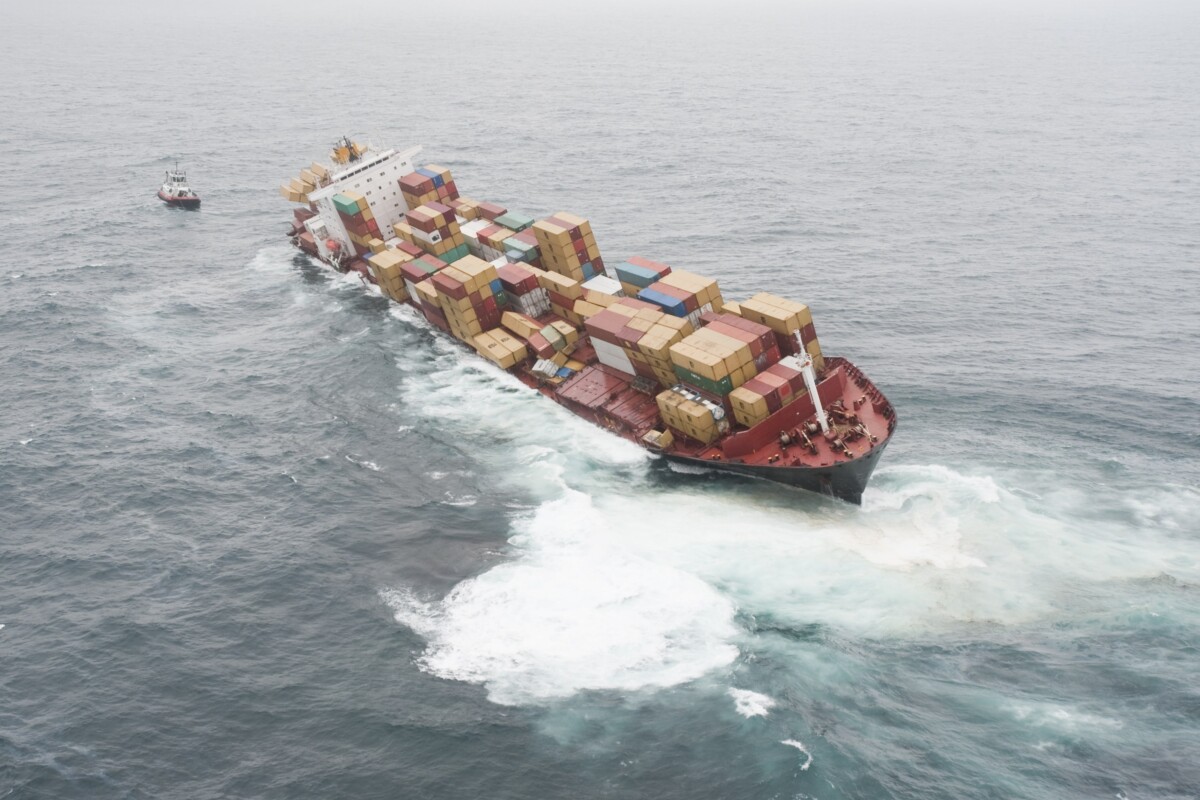 Consequences
Lost containers block the way of crowded shipping lanes thus posing a considerable threat to the safety of the ships and their passengers. In today's post, we are going to talk about the problem of lost shipping containers at sea, their causes, their impact on the environment, and the way out from this problem.
According to Monterey Bay Aquarium Research Institute, the containers have indirect ecological impacts. For instance, the lost sea containers encourage a large number of marine predators. In their opinion, "Although the effects of one container may seem small, the thousands of shipping containers lost on the seafloor each year could eventually become a significant source of pollution for deep-sea ecosystems."
Back in 2019 Mediterranean Shipping Company lost 270 containers at the North Sea following which they undertook a clean-up drive. The beaches of the Dutch Islands were strewn with shoes, toys and televisions. Keeping aside the problem of damage to the client's shipments, the lost containers also pose a potential threat to the environment. Moreover, containers carrying dangerous goods, chemicals and batteries are even more damaging for the deep-sea environment and ecosystem.
How to minimize risks on lost containers
Container insurance
While cargo insurance covers the shipment being moved, container insurance covers the containers. Containers are pricey equipment and spending for the entire price of the container can take a toll on the finances of the shipping company. ContainerXchange an international container logistics expert Conqueror has partnered with, offers container insurance that shippers can add to all their container transactions. This will surely add an extra layer of security for the shipping companies.
Container tracking solutions
Many people believe that once a container is placed on a ship there is no cause of concern for a few weeks till it reaches its destination. However, the case isn't as simple as that. There are many instances when the containers don't stay put. In the case of One Apus for instance the containers went overboard after a severe storm. According to Gene Seroka, the Executive Director of Port of Los Angeles, 'having the ability to track every container, its whereabouts along the path and even at rest is very important.' A container tracking system will allow the transmission of real time information during an unforeseen event.
IoT visionary and container shipping solution provider Loginno has at last found the solution to the most difficult problem faced by carriers, viz. finding a lost container at sea. To date tracking these containers has been an extremely daunting and almost impossible task but thanks to the Contopia creators Loginno, there is now a way of tracing these containers. This Israel based company has recently announced a brand new feature that will soon be added to its smart containers. This feature will improve its sonar footprint resulting in easy detection of underwater containers.
More about Loginno
Loginno is an Israel based start-up that is providing innovative solutions in the  container shipping sector. Their objective is to "enable shipping companies to become digital shipping companies". They are providers of IoT solutions whose objective is to convert regular container fleets into smart containers. Presently, they are collaborating with select shipping companies to create 100% IoT enabled fleet for them. This comes with several advantages including the ability to extract real-time data, several logistical benefits.
According to Amit Aflalo, the Co-founder of Loginno, "This small but very important addition to our AGAM device, will introduce a low-frequency sonar beacon to our smart containers, allowing more than a month of a continuous 'lost-at-sea' mode." This mode will allow all standard sonar system to spot the container. This detection will be possible from a distance of several miles and up to 96 meters in depth. Additionally, they will attach a special identifier to every container.  This will permit the container owner to easily identify them during the process of retreival. Apart from enormously helping the shippers and cargo owners, this new technology by Loginno will also prevent unpleasant accidents due to submerged containers. Their team is working towards the objective of a more effective and safe journey of shipments via waterways.