E-commerce started making its presence felt in this industry way back in 2015. Back then multinational online companies started seeking same-day deliveries for their domestic clients and 72 hours deliveries for international clients. Since then, the model of operation has evolved considerably and e-commerce giants are increasingly using cargo planes for moving their shipments. According to an estimate by IATA, just before the start of the pandemic, e-commerce shipments constituted around 15% of the volume of the air freight shipping industry. With the advent of the pandemic, this number has grown exponentially. In today's post, we will discuss how the tremendous increase in e-commerce sales is affecting the air freight shipping industry.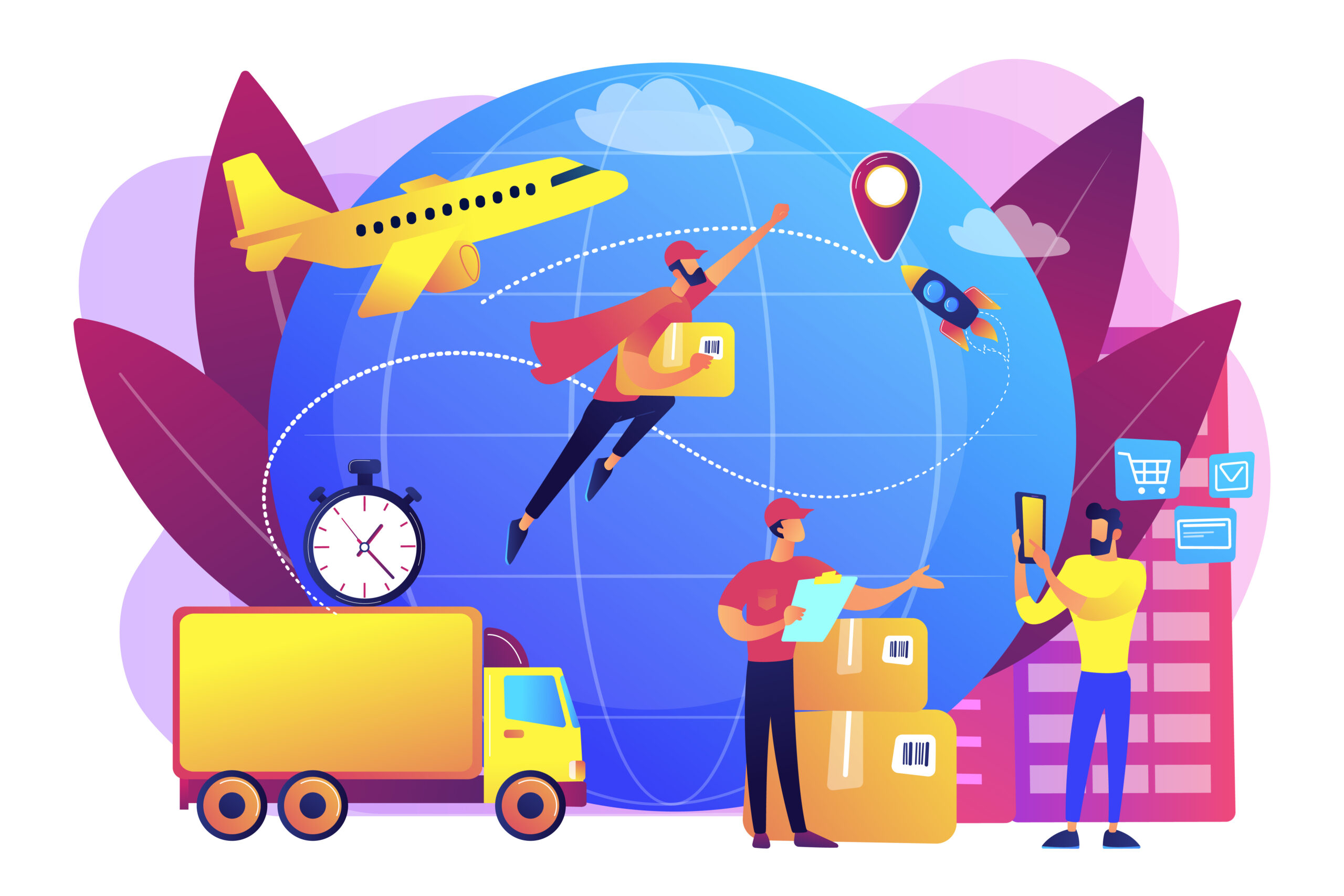 The e-commerce expansion and the challenges and opportunities for the air freight shipping industry
The e-commerce boom
The volume of air freight parcels has more than doubled over the last decade. The online shopping trends have put pressure on domestic and international parcel delivery services. Naturally, the air cargo industry is the only solution for e-commerce companies since it is the fastest mode of moving shipments. The e-commerce market has generated increased transparency in logistical operations that was never offered before. Consumers are now used to receiving information on delivery status, shipping options, inventory status, and more. This is prompting the air freight forwarders to adjust to the new market realities to offer digitized end-to-end services for e-commerce customers. Some of the key considerations include affordable shipping price, end-to-end shipment tracking, and high-priority cargoes.
Changes in consumer expectations
E-commerce has not just transformed the mode of logistical operations but has also made a tremendous impact on customer expectations. One important factor that has come into prominence these days is environmental sustainability. Young shoppers who form the majority of e-commerce customers tend to choose companies that have adopted green logistics practices. In fact, sustainability tops the list of the concerns of young customers. Simply put, the customer expectations these days go further than just receiving a shipment on time. The only solution to this problem is a collaborative effort focusing on the overall enhanced efficiency of everyday operations. For this reason, the air freight industry is racing to implement new digital processes and adhere to operational standards to drive efficacy and increase their business volume.
The first step towards digitization should tackle the streamlining and digitization of operations like enhancing customer relationships. The automation of your quote generation process can be an important step in this regard.
What the logistics companies should do to stay competitive
| | | |
| --- | --- | --- |
| Even 5 years back the industry was still starting the process. However, ever since the pandemic we can see a marked acceleration in the process of automation. Eight of the top ten carriers have created their personal instant quote generation platform. This process commenced back in 2008 with the launch of Maersk Spot Booking. Presently, 52% of Maersk's spot cargo is booked online. Historically carriers have always been a step ahead of forwarders when it comes to digitization. Nevertheless, this trend started to change a few years ago. Freight forwarders are steadily adopting digitization to keep pace with the industry changes. | | |
Opportunities for the air cargo industry
Air freight constitutes of 30%- 35% of the revenues for the airlines. Out of this 18% of revenue comes from e-commerce and this figure will continue to rise in the coming years. As a result, the industry is taking quick steps to ramp up its e-commerce operations. One important step is the introduction of 'preighters' (passenger planes converted into freighters) during the pandemic and the adoption of new technologies to streamline their operations. The air freight industry is benefiting from the high demand from the e-commerce segment that has become a major source of cargo volume for the air freight operators. Moreover, the air freight demand has reached an all-time high in Asia where e-commerce has grown exponentially since the pandemic.
Increased demand for freighters
One direct consequence of the e-commerce surge is a massive market demand for freighters. As per a survey by AeroDynamic Advisory, by 2025 over 180 planes will be reconfigured for cargo operations. In 2021, Boeing booked record orders for both new and converted cargo planes to cope with the demands of e-commerce shipments. Last year at the Dubai Air show, Airbus announced its plans of operating a new freighter- A355F. Brazilian aerospace company Embraer has also entered the e-commerce market with the launch of its passenger to cargo plane conversions.
How the air cargo industry is making the most of the e-commerce boom
Since the pandemic, we have been seeing lots of collaboration announcements from airports, air freight agents, shippers, and carriers who are all trying to tap into the e-commerce boom.
To quote Martin Drew the Senior VP of Etihad Cargo, the freight division of UAE-based Etihad Airways, "As a result of the COVID-19 pandemic, we have seen a shift in consumer behavior. Most notably, there has been a phenomenal global increase in online shopping and cross-border trade between e-commerce businesses. IATA suggests the sector is predominantly driven by fashion and retail — footwear, apparel, and consumer electronics represent more than 52 percent of all online shopping. However, we believe the future will be more diversified, as e-commerce companies are starting to sell more commodities such as pharmaceuticals, fresh produce, and live animals via online channels."
In September 2021, FedEx Express launched FedEx International Connect Plus an e-commerce shipping service that promises speed and affordability. The FICP is presently operating in the Asia Pacific, Middle East, and Africa (AMEA) region. Container shipping giant AP Moller- Maersk is also creating its own e-commerce logistics business. To this end, they have acquired Visible SCM- a US-based B2C logistics company specializing in parcel delivery. They are also about to take over Europe Holding BV a B2C logistics company based in the Netherlands. DHL is also enhancing its freighter operations with new acquisitions to support the company's e-commerce activities.
Is the air cargo industry ready to face the demands of e-commerce?
The top e-commerce companies still outsource part of their cargo operations to 3rd party logistics service providers. The reason behind this is that the e-commerce companies still bank on the knowledge, expertise, and best-in-class operations of the 3PLs. The leading air freight forwarding companies are leveraging new technologies to optimize their supply chain. More importantly, they allow online companies to send their shipments anywhere on the globe. Nevertheless, presently some e-commerce companies like Amazon are opening up their own logistical units and acquiring freighters to gain better control over the distribution process. Simply put, the requirements of these online retailers have become more complex, and traditional air freight forwarders need to address several issues to avoid losing a part of their market.
For instance, the primary problem of traditional air cargo operators is the lack of digitization which in turn affects transparency. Another important factor that is threatening the businesses of traditional air freight forwarders is the inadequate handling standards. This leads to inefficiencies, inaccuracies, and congested facilities. Lack of investment in digitization and not adapting to the industry standards is driving a loss of sales for many air cargo operators. Additionally, the customs procedures for e-commerce parcels differ from country to country. Therefore, air freight forwarding companies need to have experience in successfully navigating these kinds of situations.
Action plan of the air cargo industry to cope with the market demands
As outlined by IATA, the action plan of the air cargo industry should focus on the following:

Enhanced security for all kinds of shipments including air cargo, parcels, and airmail.

Introduction of fair practices, speeding the transaction processes, and simplifying the shipment processes with the help of perpetually updated systems.

Implementation of automation for increased transparency and enhanced visibility for the customers.

Collaboration with leading e-commerce companies to educate them on air freight safety procedures.

Establishment of new business models that allows for comprehensive integration.

Better communication and collaboration among all the stakeholders of the shipment.
As per the latest report from Transport Intelligence, the international e-commerce logistics market will grow at a CAGR of 10.65% to 2026. According to IATA, the current e-commerce market is valued at $5 trillion making it one of the fastest-growing industries in the world. In this scenario, it is imperative for small and mid-sized air freight forwarders to invest in automation and streamline their operations to generation better revenue.