Alisped Japan Ltd joined Conqueror in January 2012 and has become one of our most enthusiastic members, getting stuck into life within the network. Recently, we spoke with Koji Inuyama, Alisped Japan's Sales Manager, to find out a little more about the company.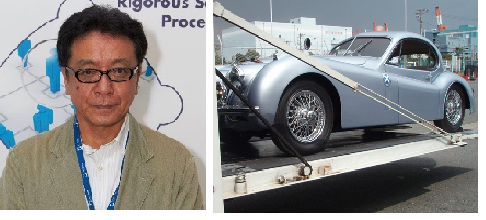 Q. Could you briefly outline Alisped Japan's history and tell us when/why you became involved?
A. Alisped Spa is an extremely well-established Italian Forwarder, which has been in operation for almost half a century. 15 years ago, Alisped's President, Mr Nitta, saw an opportunity to open an independent Alisped Office in Japan and thus Alisped Japan Ltd was born. I became acquainted with Mr.Nitta after a chance meeting when I worked at the Japanese offices of Schenker, more than 20 years ago.
Q. What do you think makes Alisped different to other Freight Forwarders in Japan?
A. When asked a question like this, many forwarders would answer with the names of their BIG multinational clients and forget about the smaller customers. I really don't like this and it is not what Alisped is about. We are about looking after all our clients equally. We do not feel the need to shout the names of our clients from the roof tops. All we want to do is provide a tailor-made service which keeps the customers happy, so they keep coming back!
Q. What would be your most memorable shipment?
A. The most memorable shipment we have handled was the transportation of 4 classic cars valued, on average, at USD 600,000 each! As well as feeling the pressure of handling something of an extremely high value, we were also under pressure time wise, as the vehicles were taking part in one of the most famous classic car exhibitions in the world, 'Concours d'Elegance.' Thankfully, their transportation from Yokohama port to Shuwaikh port in Kuwait and back again, went without a hitch!
Q. What attracted you to join Conqueror as opposed to other networks?
A. Conqueror was recommended to us by Peter Sequeira of Tri-alliance, whom both myself and Mr.Nitta have known for several years. It was after speaking with Peter and hearing the advantages that Tri-alliance were experiencing that made us decide to join. In my opinion, a recommendation from a fellow agent far outweighs any advertising and that's why we chose Conqueror and, I have to say, we have not been disappointed.
Q. How has being part of Conqueror helped the operations of Alisped?
A. Well, it was after I attended the conference in Phuket that we really felt the benefits of being in the network. The amount of business exchanged between ourselves and the other members has far exceeded our expectations. Since we joined, we have exchanged business with approximately 30 CQR members in 25 different countries, moving 30 exports / 30 imports.We believe that with further attendance at the meetings and with the development of relationships within the network, our CQR business volume will only continue to rise!
Alisped Japan Ltd has completely embraced what Conqueror is about; cooperation. They are without a doubt an asset to the network, and a perfect example of the kind of agents we have in Conqueror.
We welcome all members requiring assistance with shipments in Tokyo and Osaka to get in touch with the Alisped Japan Ltd team.