Our member in Riga joined Conqueror in February this year as the network's exclusive member in Riga, Latvia.
Andrey Sherstobitov, Rinosta's Liner Manager, recently spoke with us about the company and the changes and advances it has undertaken over the 20 years since it began.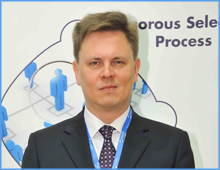 Q. When and how did you get into the freight forwarding industry? 
A. My life in the shipping industry started 2 decades ago when I was a young graduate straight out of Riga Aviation University. My first job was in a company where I was appointed the Riga agent for the container line – Sea Land.
Q. When and why did you join Rinosta? 
A. At the end of '90's, when Sea Land was acquired by Maersk there was a merger of staff from both agencies in Riga. I took this as an opportunity to get out of a big organization. This was when I then joined Rinosta.
Q. On the 8th August 2013, SIA "RINOSTA SHIPPING AGENCY" joined forces with the Investment and Development Agency of Latvia (LIAA) on a project which became called "The External marketing activity of SIA "Rinosta Shipping Agency" in 2013″. Could you tell us a little more about this? 
A. The objective of the Investment and Development Agency of Latvia (LIAA) is to promote business development by facilitating more foreign investment, in parallel increasing the competitiveness of Latvian entrepreneurs in both domestic and foreign markets. In Rinosta's case, we received EU funds through the LIAA in order to further our advertising and also our participation in international transport fairs like TransRussia which was held in Moscow last year. As a result, we have been able to take Rinosta to the next level in terms of trading internationally and attracting overseas partners.
Q. What would be the most significant shipment your company has handled? What challenges did it pose and how did your team overcome them and successfully complete the shipment? 
A. In reply to such a question, people in shipping often recall an exceptional OOG, heavy or ultra-fast cargo delivery; mentioning meters, tons, hours, minutes etc. The truth is that this doesn't impress everyone.
At Rinosta Shipping, we work with these aforementioned cargo types on a regular basis, and when tasks are defined in advance, normally, processes run smoothly and on time. Difficulties may arise with unexpected shipments even if it's in standard containers; such as when a client requests a last minute delivery of a substantial volume of cargo to a far off land, for example.
Two months ago, we received an urgent request from one of our clients to ship fertilizers from Latvia to Beira (Mozambique) in some 166×20′ in one shipment. We had just 1 week to find and choose a carrier, reserve space and equipment and fix the booking and trucks for pre-carriage from loading place to the port. Despite the loading place being in Latvia, Klaipeda port (Lithuania) was considered as POL due to inland route optimization..
Excellent cooperation between the staff at our two offices in Riga and Klaipeda, their good communication with the carrier line and the trucking companies meant for a successful shipping process.
Q. Next year Rinosta will be celebrating its 20th Anniversary? How different is Rinosta now to 1995?
A. In short, Rinosta has changed A LOT. It is almost unrecognizable. The company has gone from focusing on dedicated single break bulk cargo flow in Riga port to a multipurpose entity which handles FCL, LCL, FTL, LTL, AF and warehousing activities within the Baltic States.