Rogerio Fadigas is co-founder and owner of Cargofast Logistics do Brasil Ltda., Conqueror's exclusive agent in Sao Paolo. With Brazil hosting the two biggest sporting events in the world, the Olympics and the FIFA World Cup over the next 4 years, we wanted to find out first-hand what the impact of organizing and holding these events is having on freight forwarders in the country.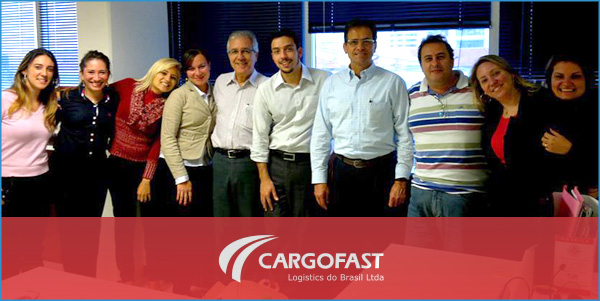 Q. How and when did you become involved in the freight forwarding industry?
A. Back in 2004, after working for 24 years in various ocean shipping lines, it became apparent to me that this segment of transportation was limited to basically a "port to port" range offering, whilst, worldwide, customers were looking for support from a broader scope of services (door deliveries and pick up, customs brokerage, airfreight, LCL consolidation, etc.) which ocean carriers were either not able to offer or not able to carry out well. In addition to that, customers were and still are, lacking a more knowledgeable, professional, dedicated and "humane" approach from ocean carriers. So to me, the freight forwarding industry looked like a great opportunity and a perfect match for my personality as it was much more about having a helpful, supportive and problem solving attitude to customers unlike a great ocean carrier full of bureaucracy, inflexibility and 9-5 office hours. It was in August 2008 with my three partners that we founded Cargofast Logistics do Brasil Ltda.
Q. What makes Cargofast different to other freight forwarders in Sao Paulo? 
A. I think it's our 40 years of expertise and knowledge of logistics in Brazil and international transportation coupled with timely communications and the aim of serving our clients and agents with professionalism, competitive costs, and the highest quality of service.
Q. Brazil is hosting the 2014 World Cup and the 2016 Olympic and Paralympic games. What effects are the planning and organising of these events having on the freight forwarding industry in Brazil?
A. There has been a considerable increase in shipments to Brazil related to these events, particularly in Breakbulk and Project Cargo which we are also specialized in and have been able to secure ourselves or been granted to us by agents worldwide. We expect that as the dates of these events get closer, we will see an increase in our air freight quotations and shipments.
Q. What part is Cargofast playing in the setting up of these events?
A.Besides the Breakbuk and Project Cargo shipments, there has been an increase in our Customs House Broker activity as importers have looked for help on cargo classification codes for their goods in order to avoid paying fines or having their goods put on hold by Brazilian Customs in case of wrong declaration.
Q.What legacy will these events leave Brazil and the freight industry there? 
A.Despite the positive impact with upgrades of several airports (some of them have been privatized recently in order to speed up improvements and capacity), construction of new roads and refurbishment of old stadiums have been supported by a multi-million dollar budget, sadly we see that hospitals and schools for the poorer in society lacking investment and any support from these events.
Q. What do you think Cargofast will look like after these two events? 
A. Well in 4 years, we will certainly have hired more people in our Ocean, Air, Customs Brokerage, Project Cargo and Trucking departments. These new collaborators will have received training and expertise which will put Cargofast in a stronger position in the market, serving our partners and customers with a greater quality of service.
It is clear that Cargofast is experiencing a boom in its business which is sure to continue over the next 4 years. The result is sure to be that the company will have an even greater position in the international market.