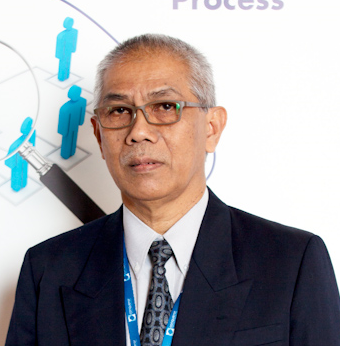 CQR Kuala Lumpur covers 5 cities across Malaysia on behalf of Conqueror and Director-MTO Sapee Ismail and his team are highly thought of by both Conqueror head office and fellow members. With attendance at every meeting to date, Subalipack consistently proves that cooperation is the key to success. We recently spoke with Sapee about the company, its operations and its future plans.  
Q. Could you tell us a little about the history of Subalipack and when you joined? 
A. Subalipack Malaysia was founded in May 1981 as a humble transport distribution and relocation company. In mid-2009, it was awarded the Multimodal Transport Operators (MTO) license by the Ministry of Finance, Malaysia allowing it to participate in the government procurement and project logistics business.
Thus in August of the same year, the company began its operations in setting up the MTO Division and promoting business development, especially in the freight forwarding tendering and service presentation. In order to be competitive and result orientated, we needed a good and reliable freight network of partners worldwide for the EXWork and FOB terms for origin support services. And we are proud to have been a member of CONQUEROR FREIGHT NETWORK since 2011.
Q. Does Subalipack specialise in any particular kind of shipment/service?  
A. Throughout the challenging years, Subalipack Malaysia has become the largest and the preferred local company, actively engaged in the business of transportation of household goods and commercial logistics. Other services include office and industrial relocation, freight forwarding and customs brokerage, storage and distribution, records management and the latest Multimodal Transport Operation (MTO).
Q. What is the most challenging relocation project your team has handled?  
A. Well, in our case, it's more the type of shipments, rather than any individual one, which are challenging. One of these would be the industrial relocation of plants and machineries for the Malaysian German Institute of Engineering which includes the dismantling and installation in just 14 days. Others are the FOB importation of 6 set trains (6 units per set) from Masan Port to Port Klang and then the final delivery to site. And finally, the multiple shipments of steel pipes, beams and plates on FOB from Antwerp and Japan Mill ports to Port Klang and barging onward to the sites private jetty at Lumut Port for Newfield Peninsula Malaysia (Oil and Gas Project).
Q. How does the team deal with these challenges and ensure a successful result? 
A. With dedication and commitment, hands-on project coordination through every stage of the operation with detailed technical planning to the modus operandi.
Q. What sets Subalipack apart from other Freight Forwarders in Malaysia? 
A. Excellent cooperation with customers, partners and staff, ongoing improvement in performance, system and strategy and customers satisfaction. Put simply; we care, we dare, we deliver.
Q. What are your plans for Subalipack over the next few years?  
A. The future is definitely bright! As a result of our consistently high quality performance in the industry, Subalipack Malaysia has had its appointment as the exclusive relocation company for PETRONAS CARIGALI personnel transfer worldwide extended for another 3 years, until 2017. In addition, as a license holder, we have also been invited to participate in the project logistics of PETRONAS wholly owned company and subsidiary and joint ventures partners in production sharing activities. So, all in all, we have a busy few years ahead.