Balance Wang, General Manager and owner of our member in Dalian, recently chatted with the CQR team about the company and how it has changed in the ten years since its foundation. He also let us in on his most memorable shipments and what the next 10 years hold for the company.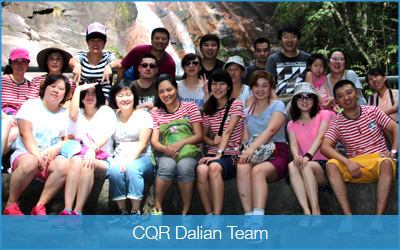 Q. Tell us a little about your company. 
A. Dalian Uniline Shipping was founded 10 years ago and is approved and registered by China's economic and trade commission NVOCC (MOC-NV05344). Our head office is in Dalian and this is the office we hold in Conqueror, but we also have branches in the main ports in China such as Tianjin, Shanghai, Qingdao, Haerbin. I am extremely fortunate to have a professional team who are capable of providing door to door services for DDP and DDU shipments including loading and customs.
Q. Does your company specialise in any particular kind of shipment? 
A. China ranks in the top 5 countries globally for food exports and so consequently a one-stop-shop export service for perishables is big business for us. In addition, we are also experienced in exporting large machines and minerals.
Q. What would be Dalian's most memorable shipment to date? 
A. Well there have been many over the past decade but if I have to choose, it would be a 5000ton end-end shipment of soybeans to Korea in just 7 days. We successfully completed the seeming impossible job and it certainly proved our team's ability to liaise and cooperate well.
Q. Next year, the company will be celebrating its 10th anniversary. Over the past decade, what has been your proudest moment as manager? 
A. I think my proudest moment is now, as I look back over the past decade and see the branches we have established, our quick but yet stable business expansion and the professional staff which have joined us to make Dalian even stronger. We have also gradually developed lasting business partnerships with overseas agents.
Q. Where do you see Dalian Uniline Shipping in another 10 years? 
A. We should see a significant increase in the volume of business the company is handling and thanks to the strengthening of international cooperation, we should have even more partnerships worldwide. I also hope that over the next decade our company will be ranked in the top 10 international logistics companies in the industry.
Q. Both you and Coco attended this year's annual meeting. How useful was it to meet members face to face in terms of building business relationships? 
A. Let me take this opportunity to thank you for the conference. We met and got to know many agents which we now consider partners. It was a great opportunity to learn about the different services they can provide us with and how we can help each other in our mutual goal of expanding our businesses.
Q. Do you plan on attending the 3rd Annual Conqueror Meeting in Kuala Lumpur next year? 
A. Yes, we will be there so that we can get to know more agents and increase our cooperation with other members.
We are thrilled to hear Balance and Coco will be attending next year's annual meeting. They certainly understand the benefits it can bring their business.