The grounding of numerous passenger flights all over the world in an attempt to contain the spread of the COVID-19 has led to the skyrocketing of airfreight rates and supply chain professionals are trying their best to book the limited space on cargo flights. In today's post, we are going to take a quick look at some of the recent developments in the air freight shipping industry.
Shippers are relying more on dedicated freighter aircrafts
Even before the Coronavirus outbreak, almost 40% of the global air shipments were moved in the bellyhold of regular passenger flights. Airlines have so far topped up the baggage load of their passengers with a considerable volume of cargo. However, now the situation has changed since only a handful of passenger flights are operating and therefore shippers are relying more on dedicated freighters.
Passenger aircrafts also help to address the shortage
In the middle of the pandemic, the airlines are making use of the passenger aircrafts to supplement the shortage in cargo flights. Apart from carrying shipments in the semi-empty passenger flights, these aircrafts are often being used for dedicated freight-only operations.  In many cases, the seats of the flights are being removed to accommodate more cargoes which are secured with nettings. Approximately 20 airlines including Cathay Pacific, Delta, Qatar Airways, etc are using their passenger planes for cargo-only operations. Moreover, these passenger flights are also being chartered by freight forwarders for transportation of essential commodities and PPE equipments.
Rising demand for cargo flights from China
The absence of regular flights operating between China (where the pandemic is waning) to other parts of the world which are experiencing a rise in infections has created a very high demand for PPE and masks. This is prompted many freight forwarders to operate chartered flights between China and the rest of the world. Since the production in China has resumed, forwarders are now trying to find ways to distribute the PPEs and medical supplies to the world's supply chain.
Low fuel price environment
On the brighter side, a low fuel price environment has somewhat lessened the operational costs and airlines are now making use of less fuel-efficient aircrafts such as Boeing 747 for the transportation of cargoes. Boeing and Airbus are both using their older aircrafts for transporting face masks and other critical commodities.
Hindrances to smooth air cargo operations
Apart from the travel restrictions, there are several other factors that are limiting the normal functioning of air cargo operations. These factors are as follows: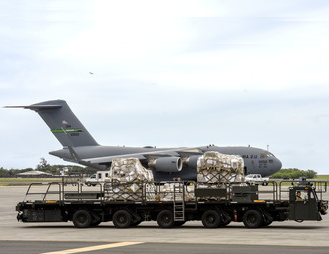 The existence of bi-lateral and multi-lateral agreements which are restricting the effective distribution of emergency items.

The airlines have to be more flexible with the geography of flights.

Since finding slots is becoming a perpetual problem, airlines need to prioritize the slots according to the importance of the cargo being moved.

There is a constant threat of airline staff and flight crew being placed under quarantine.
What the TIACA (The International Air Cargo Association) says
The TIACA has compiled 'A Working Document on a Post COVID-19 Recovery Path' which provides answers to all questions related to the air cargo industry and how its operations are altering because of the pandemic. Vladimir Zubkov, the Secretary-General of the TIACA states in an interview published on International Airport Review, "TIACA sees its role to permanently promote the air cargo industry. The organization is focused on reaching out to governments and reminding them that air cargo is a significant contributor to the global economy and international trade and that it plays a very important role in preventing and battling the disastrous effect of coronavirus. The value of air cargo to airlines, governments, shippers, and consignees has become more evident in the response to the COVID-19 crisis." When asked about the future role of this industry, Mr. Zukov states, "One of the key tasks is to safeguard the functionality of the air cargo supply chain to the maximum extent possible. A presumably stable element in recovery scenarios, air cargo will play a significant role in supporting the recovery of the global supply chain and the economy. One important condition is the facilitation and flexibility of rules."