The content you put on your website are a primary factor in converting your visitors into leads and eventually customers. How great is your webpage? Does it get enough visits that regularly generate interest in the services you're offering? Simply put, the most important function of your website is to help bring in new businesses by convincing your audience through the content you're offering. Professionally written web-content is absolutely crucial for the success of your website as a tool for company development. In today's post, we are going to discuss a few important website writing tips for independent freight forwarders.
Keep reading to know more about logistics website writing tips.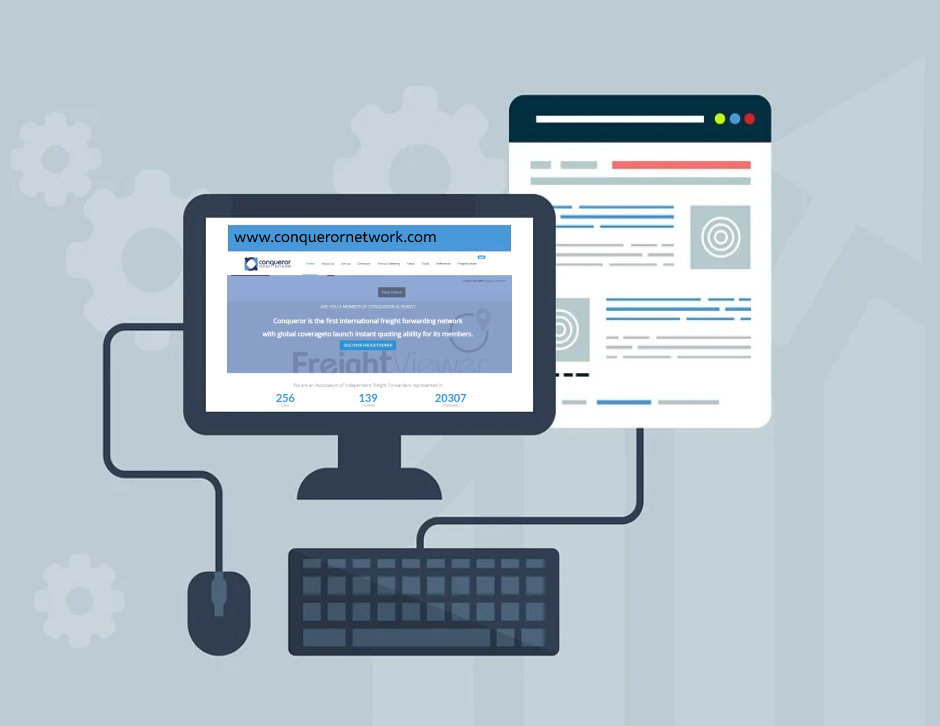 Website writing tips for the logistics industry
Think about your audience
Logistics companies need to first think about their target audience before creating content for their website. It needs to be remembered that all companies in this sector do not cater to the same audience. The audience you're targeting will largely depend on your specializations. Most people visit your website looking for a solution to their problem. They require something that you're selling. This is why you should never start your website by talking about your experiences in the sector or your achievements. This kind of info is not relevant for first time visitors. On the other hand, what you should do is focus on how you can provide a solution to their problem.
Using wordy content on your landing page is never a good idea since it unnecessarily confuses your visitors. Instead of getting all formal, you need to avoid big words and lengthy sentences and keep it short and simple. Remember that as a freight forwarder you will get diverse visitors from all over the world and not all of them are conversant in English. This is the reason why your content should communicate the basic points in simple and easy language.
Make your home page attractive
The content of your home page should focus on the services you are offering. It should also say something about how your clientele can benefit by availing your services. Keep in mind that "About Us" or "Company Mission" shouldn't be the focus of this page. You need to create separate pages for these topics. In other words, your home page should focus on your customers' interests and not yours. Once you have included the primary benefit of availing your services, you can put the rest of the advantages that distinguishes your company from your competition in a tag under the main heading.
Capture interest with subheadings and headlines
When someone visits your site, they are mostly searching for some specific information. This info could be something pertaining to your company, a particular service, a quote request or search for info about a topic they want to know about. When they don't easily find the topic they are searching for, its most likely for them to leave your website and look somewhere else. By quickly we mean just 2-3 seconds. Therefore, your first task is to make your visitor aware that they are on the right page where they will find what they're looking for.
In order to do this, all pages of your website should come with distinct headlines letting the audience know about two things: What's there in the page? Which info is relevant for me?
Therefore, you must be careful with your the words you're putting on your page. Also make sure to complement your writing with enough images that will make your page more appealing to look at.
Lengthy paragraphs of content often tend to confuse your audience. For this reason, it is important to break up your text into shorter paragraphs with headings and bullet points. Moreover, you should also make sure to insert CTA or Call to Action in your content from time to time. By this we mean a direct address to your audience to try out your services or get in touch with you. This is generally followed by a link.
SEO or search engine optimization is the most important factor affecting the visibility of your website. SEO optimized websites always rank higher on Google. In other words your audience will be able to find your company on the first page of Google search results. To do this correctly, you need to find a list of most searched keywords in your sector and insert them appropriately inside your content. Ideally, you should hire the services of a professional content writer and SEO specialist to help you with this task.
Double check the spellings
Bad spelling or grammar on your website can indeed be a turn off for a major chunk of your audience. This is why you need to proofread as many times as you can and if possible get it done by more than one person.