While determining shipping options independent freight forwarders need to make the important decision of whether to ship less than container load (LCL) or full container load (FCL). Several factors come to play while determining the ideal mode of shipment. Both LCL and FCL shipments come with a set of unique advantages and disadvantages. This is why the sea freight forwarders need to consider the nature of their shipment and weigh the pros and cons of both LCL and FCL and then make an informed decision. Today's blog is a brief guide to the two shipping methods of ocean freight, their definition, differences, advantages, and limitations to allow the freight forwarders to select the most appropriate shipment mode while shipping through ocean.
Defining LCL and FCL
LCL
LCL or less than container load shipping consolidates several shipments from multiple freight forwarders in one shared container. Therefore, it allows companies to move small volumes of cargoes without having to rent the entire container. LCL shipments can be a cost-effective option for shippers who are moving a small volume of cargo. The price of LCL shipments is determined according to the volume of the cargo. Once the cargo reaches its destination, the contents of the containers are separated and delivered by the respective freight forwarders.
FCL
In FCL or full container load shipping, the forwarder pays for the entire container rather than sharing it with others. FCL shipments offer you a flat rate for the container and the forwarders get to access all the available space inside it. Generally, logistics companies choose the FCL mode of shipment when the cargo volume is above 20 cbm. Moreover, it can be a convenient shipping mode since it ensures that your cargo is not touched during the entire journey apart from the customs inspections.
Advantages and limitations of LCL and FCL
Advantages of LCL mode of shipping
The most important benefit of LCL load is its low shipping rate than any other container shipping service. Instead of weight, your shipment is charged on the basis of its volume. Therefore, it is a cost effective option for weight based shipment.

Small and mid-sized manufacturers can send smaller cargo volumes using LCL to improve their cashflow. In other words, it is the most effective shipping option for shipments with small volumes.

It gives the forwarders more flexibility by reducing the inventory investment.

LCL shipping is perfectly suitable for cargoes taking up no more than six standard pallets.

Yet another important reason behind the popularity of LCL shipments is that they offer quick delivery appointments. The shipment stays at the port for as many as five days before being unloaded. This gives the consignees sufficient time to book a delivery appointment without having to pay a fee.
Disadvantages of LCL mode of shipping
One big drawback of LCL shipping is the lengthy inspection process. The customs officials carefully check all the content of the containers that are being moved out of a country. No matter whether the officer is checking the contents of one consignee's crate, the entire container gets subjected to inspection. This inspection cost has to be paid by all the consignees renting the container.

Even though the transit time of both FCL and LCL are the same, freight forwarders often experience a shipping delay while moving goods via LCL. This happens because it generally takes at least one or two days for the box to be properly processed and loaded. Moreover, LCL shipments also suffer delays at customs because of other cargo. Lastly, the loading and unloading of multiple cargoes in LCL shipments make it more time consuming.

Your cargo is more prone to damage when you are moving it by LCL. Moreover, fragile cargoes could be affected due to frequent moving and handling of the LCL shipments. Lastly, you have no control over which other goods are being shipped in the same container. So in case, there are corrosive, liquid substances or smelly cargoes in the same container then your cargo could also be affected.
Advantages of FCL shipments
With FCL you don't need to bother about finding other companies with transportation requirements in your route. Therefore, you can customize the entire shipping process according to your requirement.

FCL shipping provides the independent with the much-needed agility in operations. It ensures a quicker delivery time as compared to LCL. This is because the customs inspection process of FCL shipment is more direct since all the cargo belongs to a single consignee.

Your cargo will be less prone to damage when you use FCL. This is because the container contains only your goods and you can arrange it in the best possible way.

Shipping via FCL can be more economical if you are moving a large volume of cargo. It is the best way to move cargo that takes up at least half the capacity of a standard 20ft or 40 ft shipping container.
Disadvantages of FCL shipments
Many freight forwarders avoid FCL shipping mainly because of cost concerns. With FCL you need to pay for the full container usage that often makes your operations more costly.

Using this shipping mode doesn't make sense if your cargo is less than 15 cubic meters.

 It doesn't cater to the needs of those with a small volume of shipments.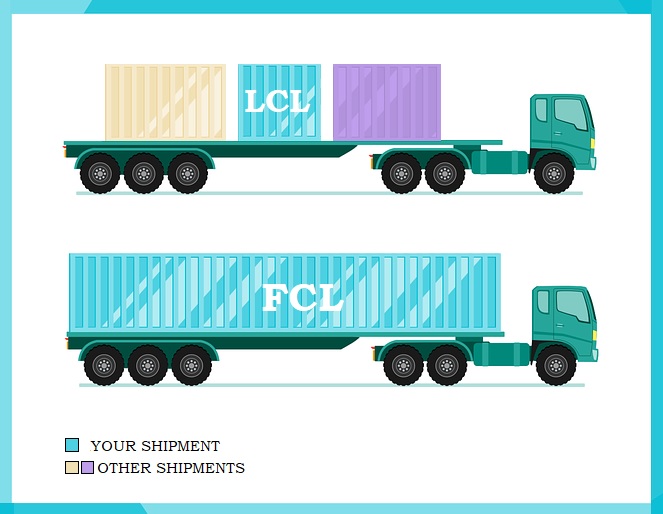 Which mode of shipment should the independent freight forwarders choose?
Before deciding on the right shipment option, there are several things you should factor in. To start with, you should consider the kind of goods you're shipping along with the volume of the cargo. You have to calculate the volume of your cargo in cubic meters and if it is less than 15 cbm then LCL shipping is the best option for you. It is the most cost-effective way of moving a small batch of shipments.
On the other hand, if your cargo is both voluminous as well as time-sensitive then FCL shipping is your best bet. This is because the transit time of FCL shipments is faster than LCL. Moreover, fragile cargoes that will not tolerate too much handling should ideally be shipped via FCL. In several cases booking an entire container can be both faster and less expensive. Whenever your cargo volume is over 20 cbm, you just need to get the full container. Remember that a full 20' container is 32 Cubic Meters, there a large part of the container will be empty. However, it still might be less expensive in spite of the extra space.