As the largest exclusive freight forwarders network in the globe there are myriad advantages that the network offers to all its members. Nevertheless, you as a member need to take some proactive action to get a good profit from within the network, expand the horizons of your business, and boost your brand. In this blog, we have listed some of the most important things you need to do to make the best of your membership with Conqueror Freight Network.
How to make the most of your membership with the best freight forwarders network?
Attending Annual Meetings regularly is of paramount importance if you want to reinforce your position within the network and lay the foundation for many concrete business partnerships.
– Conqueror's 9th Annual Meeting
Conqueror's 9th Annual Meeting is all set to take place at the InterContinental Hotel in Doha, Qatar, from 6th to 8th February 2023.
We will kick start the meeting with a Welcome Cocktail Reception which will allow the delegates to warm up with their fellow members before commencing the serious business talks on the following day. The participants have already scheduled their one-to-one meetings with their network partners which are going to form the core networking activity of this event. The in-person face-to-face discussions with your network partners allow you to hash out the details of your upcoming projects with your existing and would-be logistics partners.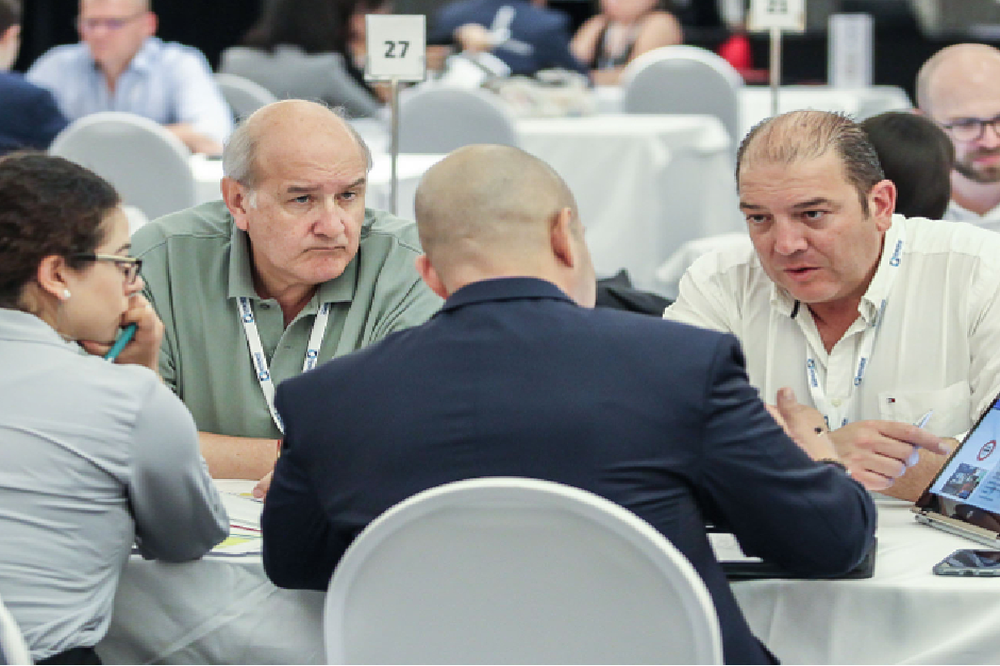 Personal interactions form the core of any business activity so make sure to take your business one step further by attending Conqueror's 9 Annual Meeting
Additionally, you will also get to participate in an optional Day Trip that will help you strengthen the bonding with your partners. Spending quality time with your partners in informal settings will allow you to incorporate a bit of entertainment into the business meeting while giving you the chance to explore the marvels of the Qatari desert.
Make use of Conqueror's member-exclusive TMS FreightViewer
As one of the best freight forwarding networks of our time, Conqueror has provided members from over 243 cities with the ability to compare freight quotes online, generate and send instant freight quotations, organize and share shipping documents with just a few clicks or set a customized quoting website with the help of a groundbreaking transport management system –Freight Viewer. Conqueror is the first logistics network that has enabled independent freight forwarders to create instant accurate quotations, and exchange rates and build a 24×7 showcase for customers without any investment on their part.
Tips to make the most of this platform
To make the most of this tool the first thing you need to do is upload your rates if you haven't done so already. Uploading your freight, local, and transport rates will automatize the quoting process and allow you to create a customized PDF quotation almost instantly. It will also enable you to sell your rates online to agents in the network and your direct customers. Next, you need to set your client's database for easy management of profit margin. Collecting and standardizing consumer data helps you create comprehensive client profiles. Freight Viewer allows you to categorize your customers into categories depending on the profit margin set. This profit margin is applied automatically while calculating the quotation. It enables you to create a personalized cost for each customer effortlessly.
Lastly, you need to design and activate your company's quoting website. Freight Viewer offers you the possibility to build a personalized quoting website. Your clients are also able to register and log in through this website and obtain personalized quotations at any time. This will give you the power to provide instant feedback to your customers 24/7.
If you have any doubts about the use of FreightViewer then make sure to join us at our Annual Meeting at Doha where we will conduct personalized demonstrations about the uses of this platform.
Send us the latest news from your company
Conqueror provides the members with a range of PR and marketing packages that can significantly accelerate the business processes of the member companies. We encourage our members to send us the news about all the latest achievements of their company which we regularly publish on the News section of the Conqueror website.
All you need to do is send us the news about the latest goings-on in your company and we will publicize it in our news section and newsletters. This will boost your online visibility and help you publicize the strong points of your organization. This in turn will encourage members from across 243 cities to contact you for their freight requirements. Moreover, we also publicize the news of your company on our social media handles which further augments your visibility. So whenever you are moving a special shipment, partnering with network members on an important project, celebrating a special event, or receiving an important recognition/certificate/award, make sure to send us the details of your achievement.
Collaborate with your network partners
Always keep in mind that in order to get new projects from your fellow members, you also need to send out a share of your shipments. The easiest way of doing this is to have a look at the Network Directory and contact those agents who are based in the areas where you can offer business. Collaboration implies both receiving as well as providing business to other members. Therefore, when you give out shipments to your network partners your cooperation will be amply rewarded by the businesses you receive from your fellow members. This will form the basis of long-standing cooperation among the agents and also help to increase the project volume within the network.