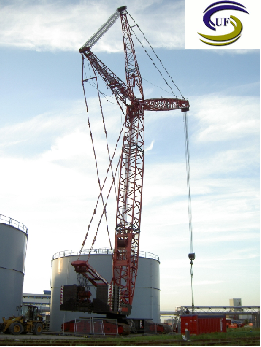 CQR Lahore was chosen by Pakistan's largest engineering company, Descon Engineering, to handle the shipping of a Mammoet Crawler Crane from Jabel Ali Dubai to Karachi Pakistan. As this was a Hook to Hook the UF Logistics team (CQR Lahore) arranged for the crane to be left in the capable hands of Iron Line.
The dimensions were as follows: 2,429.21 M3 810.70 Metric tons.
Obviously this is not the kind of shipment made in one piece!  It was carefully dismantled at Jebel Ali and loaded onto a chartered BBulk/Roro Iron Line vessel for its short voyage to Pakistan.

With over 15 years in the business, UF Logistics has become renowned in Pakistan for getting 'shipments cleared faster, easier and with less hassle,' as their mantra states. Descon Engineering certainly believed this, as they awarded the CQR Lahore team with 'an appreciation letter' for their excellent performance on this job!