When one of the leading world renowned project forwarders needed a UK partner to handle an incoming Antonov 124-100 charter flight carrying a 68-ton rotor from the USA to East Midlands Airport in the UK, they turned to CQR Newcastle, Union Transport Ltd.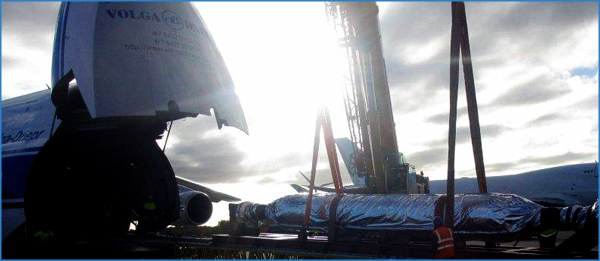 The cargo was due to arrive at 5am one Saturday morning and had to be delivered to a power station in South Wales 12 hours later. Time was of the essence; especially as a considerable 6 figure sum in Customs Duty and VAT had to be paid to UK Customs before clearance, so the team planned the discharge well in advance. In addition, CQR Newcastle pre-arranged security passes, 2 x 120 ton mobile cranes, handling, a heavy haulage low loader and escort vehicles.
The cargo was unloaded from the Antonov, reloaded onto the heavy haulage trailer and on its way by 12 noon with 5 hours to get to its destination, 150 miles away in South Wales. Now, we can all do the basic maths that at 60 MPH, it should only take 2 hours 30 minutes, but the low loader at this weight had a top speed of 40 MPH, taking the expected journey time up to just under 4 hours, not leaving a lot of room for hold-ups or detours.
To the relief of CQR Newcastle, the delivery went without a hitch and the rotor and its new owner were united right on-time. While the Union team were occupied ensuring a trouble free delivery, the clients were fully confident that their goods were in the best hands. They knew they were getting a team with 25 years in the business, leaving no doubt as to the success of this delivery.