For the final quarter of 2013, CQR Ho Chi Minh transported Doosan's oversized shipments from Haiphong to Busan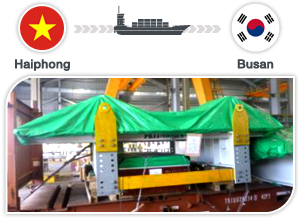 Using 40′ flat rack containers, the team successfully arranged the shipping of structural steel (Dim: 11.7m x 4.00m x 1.90m / GW: 26-33MT. per container) with the shipping lines HANJIN and CK Line.
"On first glance, this shipment seemed quite straightforward, however, the cargo was 4m over-width and we were requested to place it under below deck and not stacked with other cargo to avoid damage. But our team is experienced enough to meet any requests and overcome any issues," explained Vice CEO, Nguyen Thi Ngoc Dung.