In November 2013, the EU declared that after years of isolation Myanmar was beginning to open its doors to democracy, foreign investment and a liberal economy and thus that companies in both Europe and Myanmar would be able to take advantage of new opportunities as the country reintegrates into the global economy.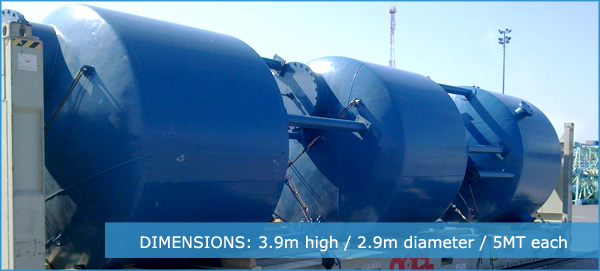 One company benefitting from this new status quo is CQR Klaipeda (JSC Baltic Marine) who recently took responsibility for shipping six water filters from Liban via Klaipeda to Yangon.
The team carried out an end to end service with upgrade, paint covering, customs formalities, loading, lashing, securing to name but a few of the tasks.  The water filters were loaded onto two flat-racks and shipped by OOCL. The team were responsible for making the upgrade at the customer's request in Klaipeda prior to the onward journey to Yangon.
When asked if there were any particular challenges to this shipment, Mantas Sakalauskas General Manager told us that, 'Choosing the correct covering for the filters was crucial firstly to avoid any potential scratches. But also something which could cope with the climate it would be going to, the tropics! Any water on the paint would of course risk corrosion.'
Of course while this was a challenge it was not an unbeatable one for the JSC Baltic Marine and the 6 water filters were successfully delivered on May Day.