A few months ago we reported that Conqueror's exclusive agent in Muscat had won its 3rd consecutive "Best Shipping Agency" Award from the Port of Muscat. Well, Conqueror is pleased to announce that the team have just received their 4th.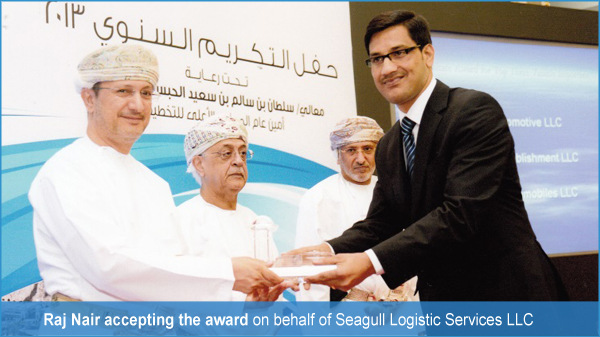 This award coincides with Seagull Logistic Services LLC's 4th anniversary celebrations. Whilst they may have been in operation for a fraction of the time of their competitors, the company is definitely the market leader in Muscat and awards like these continue to cement this idea in the mind of the shipping industry in Oman.
"Winning awards such as this definitely motivates every member of staff to work to an even greater standard of professionalism and to increase our knowledge and thus expertise. We strive to provide the best service we can for every customer on every shipment; nothing less will do," said Director Raj Nair.
Conqueror would like to congratulate the team on their success!