The Conqueror Almaty team recently handled a substantial turnkey project of 3 mills for a gold mine in the south-east of Kazakhstan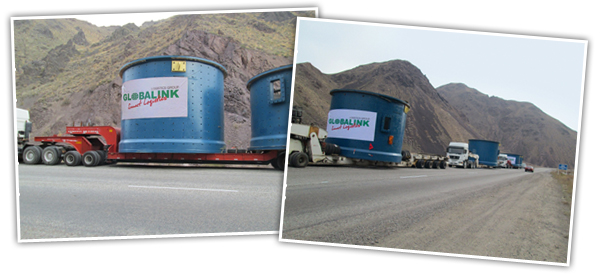 Originating in China, the total weight of each mill was 650 tons. Due to extraordinary dimensions, each mill had to be disassembled into multiple pieces weighing 50 tons each. Being an out of gauge shipment, the transportation as well as the lashing, loading and unloading processes required the deployment of specialized heavy-lift equipment.
CQR Kazakhstan's in-house industrial projects packing team secured each component at origin and arranged specialized industrial crating for the fragile mill parts. Once the shipment was secured on our specialized trailers, a long and challenging journey awaited from Luoyang in China to the final remote destination in southern Kazakhstan via Khorgos on the Sino-Kazakh Border covering more than 3500 kilometers.
Thanks to their own terminal at the Khorgos border, Globalink's in-house customs brokerage team swiftly completed the clearance and certification process. Due to well-coordinated team efforts by CQR Kazakhstan's project specialists in China and Kazakhstan, the shipment crossed the border and was delivered at the project site just-in-time. At destination, the cargo was swiftly offloaded under the supervision of their project specialists so that their customer could begin installation operations right away.
Globalink, in its 20-year history of operations in the CIS market, has gained a well-deserved reputation for being the Project Logistics Managements Company of choice by EPC, mining and oil & gas companies in the region and they constantly strive to maintain their unique position.