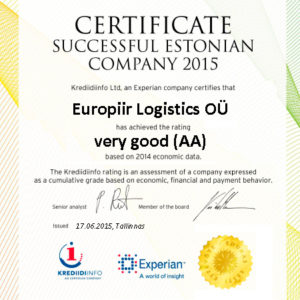 CQR Tallinn, EUROPIIR LOGISTICS OU, has, for the third consecutive time, been rated as a SUCCESSFUL ESTONIAN COMPANY 2O15 RATING AA, a status given to a mere 10% of Estonian companies. For more information about this rating, please click here. 
In addition, from the beginning of June this year, CQR Tallinn became licensed as a customs representative in Estonia.
Such achievements mean CQR members can feel more confident than ever that their shipments are in safe hands with EUROPIIR LOGISTICS OU.
CONQUEROR would like to congratulate EUROPIIR LOGISTICS OU on these achievements and invite all members with shipments in Tallinn to get in touch.