CQR Athens, C.V.M. INTERNATIONAL FORWARDING LTD, joined the network almost three years ago and has established itself as one of our most committed and enthusiastic of members. Manager, Vlasis Maragos, spoke with us recently about the company and how the network is working for them.
Q. Can you tell us a little about the history of C.V.M. INTERNATIONAL FORWARDING LTD. and when you joined the company? 
A. C.V.M. International Forwarding Company was established in 1980 by Chris V. Maragos; a Captain, a Professor at the Training Center of Merchant Marines in Greece, my father and my mentor. The family's tradition (my grandfather also worked in the field) and their professionalism was mainly what attracted me to the freight forwarding industry.
In the beginning of our company's operation, we handled 80% of Greece's world-wide marble exports (about 800 teu / month). Since then, more and more clients of varying industries have entrusted their goods to us. I personally joined the company in 2007, immediately after my service as a 2nd Officer and the completion of my Masters in International Transportation Management.
Q. Does your company specialize in any particular kind of shipment? 
A. We are strong in all areas of shipping (sea transports, ship spares & chartering to name just a few). Although, we don't limit ourselves to one area; our office provides complete logistics solutions (from multi-mode transports to project cargos and more).
Q. What would be the most significant shipment/project your company has handled? 
A. We are proud to say that for more than 30 years, we have been frequently challenged with the shipments that we handle. We have handled the stuffing, custom clearance & road transport to Piraeus port of 80 containers – as one lot – in 7 days. Last year, we chartered a vessel within a floatable vessel and currently, we move large steel structures (14m long) on a monthly basis, from Greece to Germany and Baku.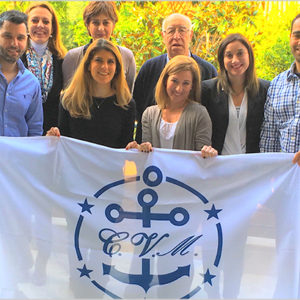 Q. What are the main challenges freight forwarders in Greece are facing at the moment? 
A. Unfortunately, the implementation of capital controls in Greece isn't helping the industry overall, as a continuation of the Greek trade. We – as a company – found a solution, so we will keep our shipments moving and our clients and suppliers satisfied.
Q. How are you and your team meeting these challenges on a daily basis? 
A. Wise management and effective partnerships – such as Conqueror freight network – are part of the solution to these daily challenges.
Q. What attracted you to apply for membership of Conqueror? 
A. The exclusiveness of the membership and the broad coverage of the network.
Q. Would you say that overall your Conqueror Membership is working for your business? 
A. We are so pleased to be a member of such a "family"! While difficult circumstances approach us all (the economic and trade crisis are a global phenomena – nobody can deny that) we have to figure out joint solutions to strengthen our COMMON future…
We are so looking forward to meeting you all in Abu Dhabi to discuss our ideas!