Conqueror is pleased to announce that our member in Taipei has successfully passed and obtained the full AEO (Authorized Economic Operator) Certificate on 27th December 2013
In order to be awarded this internationally recognised certificate, companies must demonstrate that they operate in accordance with customs compliance, appropriate record keeping, solvency and security and safety standards.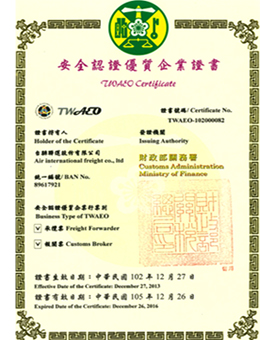 Over the past year, CQR Taipei has successfully complied with all the Customs Authority inspections and audits including the required financial standing, application of suitable management and operational procedures as well as fruitful meetings with personnel and physical inspection of their operated depots and workplaces.
A number of benefits come with this accreditation:
– Easier admittance to customs simplifications
– Prior notification when, as a result of security and safety risk analysis, the consignment has been selected for further physical control.
– Reduced data set for entry and exit summary declarations.
– Fewer physical and document-based controls.
– Priority treatment of consignments if selected for control.
– Choice of the place of controls.
– Recognized as a secure and safe business partner.
– Improved relations with Customs.
– Improved relations and acknowledgement by other government authorities.
Conqueror would like to congratulate its member in Taipei on this achievement and invite all members with shipments in Taipei to get in touch with the team.