Freight forwarders from all around the globe are getting ready to fly to Phuket for attending CQR's 8th Annual Meeting at the Le Meridien Beach Resort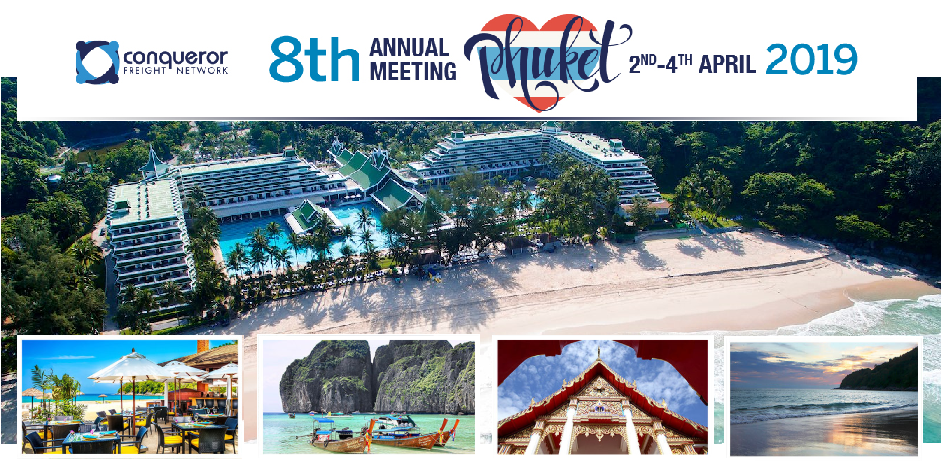 The much-awaited Conqueror's 8th Annual Meeting is all set to commence on the 2nd of April 2019 at the Le Meridien Beach Resort in the beautiful beach town of Phuket, Thailand. The Annual Meeting which is going to be held from the 2nd -4th of April will allow the participants to get up close with their existing and potential partners and discuss face to face about the prospects of collaboration in the coming months.  
We will kick start the meeting with a Welcome Cocktail Reception which will allow the delegates to warm up with their fellow members before commencing the serious business talks on the following day. The participants have already scheduled their one-to-one meetings with their network partners which are going to form the core networking activity of this event.
"Just like last year, we are expecting a fabulous turnout at our Annual Meeting at Phuket which will bring Conqueror members from all over the world under one roof. Apart from fostering the spirit of cooperation within our network, the meeting will also allow the delegates to personally interact with their fellow members and secure many new deals and forge lasting partnerships," says Antonio Torres, the President and Founder of Conqueror Freight Network.
Other than that, the delegates will also get to indulge in a bit of leisure during the Gala Dinner Party where all the attendees will be treated to a delectable dinner at the Sala Bua restaurant on Patong Beach.
Looking forward to seeing you soon!