In the last three years, they moved over 1500 tons of cargo per year
MGL Cargo Services, Conqueror member in Cairo, Egypt, has been listed as one of the top ten freight forwarders for Air France/ KLM Egypt. On the occasion of the inauguration of the new A350 aircraft to Cairo, Air France/ KLM conducted an event where they shared this list of the Top Ten Cargo Agents in Egypt. The new A350 aircraft is offering 7 PMCs with an average of 25 tons per flight.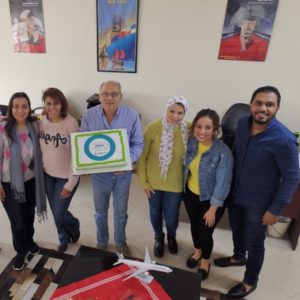 This vast load space has allowed them to enhance their sales activity and maximize their market share within this group.

As stated by Mr. Marc Gharabawi, the Executive Director of MGL Cargo Services, "During the last three years we have loaded more than 1500 tons of shipment per year with Air France/KLM, which consisted of various commodities such as perishables, textiles and general cargo.We have secured our allotments to specific destinations served by this group.Our space is secured all over the year, regardless of the time of the year when getting a concrete booking can be a real nightmare for most of the freight forwarders operating at Cairo airport."
Air France is covering specific areas in Africa, where it is very hard to move bulk cargo, which includes several territories being handled by Conqueror Cairo. This has allowed them to significantly enhance their service towards their clientele. "Ensuring the guarantee of very special rates for our company wasn't a piece of cake. I would like to thank my teammates for their consistent efforts which have been duly rewarded. Air France/KLM grabbed the occasion to congratulate us for our performance, celebrating this event in our office, in the presence of our staff." adds Mr. Gharabawi.
Congratulations to MGL Cargo Services and wishing them the very best for their upcoming projects!