Andrea Martin, from Conqueror's FreightViewer department, talks to Wilson Huang, BlueX's Senior Sales Manager, about the latest digitization trends in the transportation and logistics industry
Conqueror Freight Network has been encouraging its members to embrace digitization ever since day one. To this end, they have made available a wide range of online tools and platforms within FreightViewer, their free and exclusive transport management software. Conqueror members can avail these platforms to digitize several aspects of their businesses. The transportation and logistics industry is going through a transition phase. Ever since the pandemic, this industry is witnessing a transformation that is somewhat disruptive. For this reason, independent freight forwarders and carriers are now trying to make use of digital solutions provided by companies like BlueX.
→ Click on the image below to listen to the full interview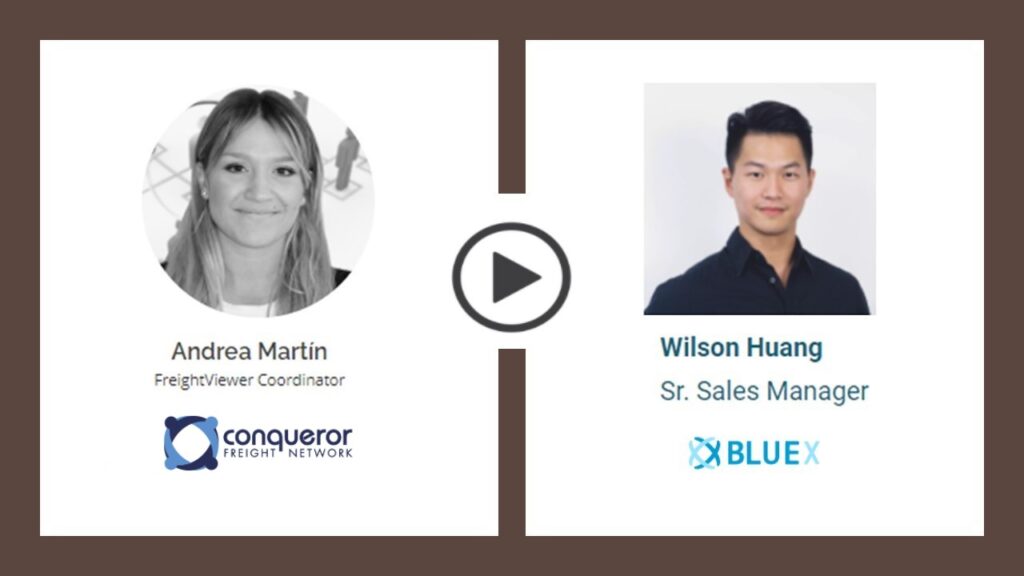 BlueX is coming up with innovative logistics tech platforms that make ocean cargo service easier and more accessible for the shippers, forwarders and carriers. Simply put, they are doing this by connecting the service providers and the customers on one single platform.
BlueX interacts directly with the carriers to create a fresh business model aimed at maximizing the revenue of the shippers. In this interview Wilson Huang and Andrea Martin discusses the way in which this industry is transforming to become more focused on efficiency and customer service. In addition, they also touch upon the way in which the pandemic has accelerated the digital transformation.
Mr. Huang thinks that this sector has started embracing technology since the last three years. However, the process soon became imperative to survive the stiff industry competition. In the last two years this industry has seen a major change in terms of new technologies. For example, eight out of the top ten carriers have created their own freight rate quotation platform. Maersk started this over a decade ago by launching their online booking platform Maersk Spot Booking. Presently, 52% of their cargo are being booked on this online platform.
Wilson Huang who has experience both as a carrier and as a forwarder is in a perfect position to analyze the current scenario and present a valuable opinion. According to him, digitization is not longer the future of this industry…it is happening at the very moment. So long, it were the carriers who pioneered the process of digitization. However, the scenario is fast changing as several freight forwarders are using technologies to optimize their workflow. Flexport- a freight forwarding and customs brokerage company has clearly demonstrated how digitization is meeting the modern needs of forwarders. Lastly, the pandemic has provided a further push to the digital endeavours of the transportation and logistics industry. The digital trend is finally being transformed from a vision to the reality.