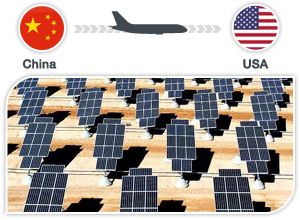 CQR Delhi was recently chosen to provide 'third country shipments solutions' by one of its prestigious multinational clients. This contract is on a weekly basis for a number of months moving 10MT Solar Cell / Solar Wafers by air from China to the USA.
"We decided to call on CQR Qingdao for assistance with these shipments and as a result together we have already moved over 100MT and this is going to continue for the next few months. Together with S.F. Systems (Qingdao) Ltd, we have been able to provide a solution that only the multinationals could have offered,"explained Three Aces Global Director, Pankaj Agarwal.
Well done to CQR Delhi on initiating such a great partnership!