Last month, saw the launch at Yantai airport of the first step in CQR Qingdao's latest venture as Air Incheon's GSA & GHA in China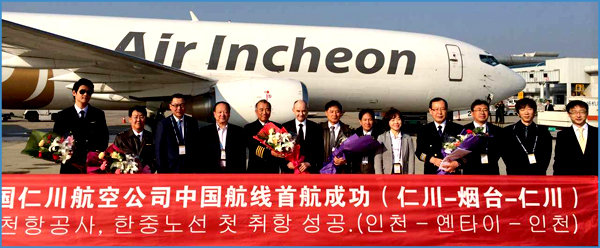 Currently, they are operating 3 flights per week (Tues, Thurs, Sat) from Yantai to Incheon and Narita airports with full cargo freighters (Boeing 737) and narrow body aircrafts but they are expecting to increase to 5 flights a week very soon.
Customers include DHL Express, LG and Foxconn and the majority of the cargo is time-sensitive and electronic products which are packed in PMC pallet(main)&PAG/PAJ pallet and LD3/AKE containers(main)&AAY containers.
The team are responsible for all documentation, government approval and permission (by CAAC,ECRA),ground handling agreements, signing with the airport group, organizing necessary training and translating training materials into Chinese, aircraft movement data(MVT&FPL) receiving and dispatching, collecting and sending, aircraft  inward/outward declaring etc., and of course marketing surveys and sales.
"This is real challenge for SF Systems Qingdao because this is the first time we have been involved in air market operations so deeply, in addition of course to doing local sales work as normal. This is an important step for our company's development," explained XiangYu, General Manager Assistant.
In addition to the normal trade routes between China, Korea and Japan, they are also operating services from Incheon to Yuzhno-Sakhalin in Russia for the oil and gas industry with a regular service but at more reasonable rates.
"We hope that our fellow CQR members who have these kinds of shipments in this area will contact SF Systems Qingdao to be their air project cargo solution provider," said Xiang Yu.