Logicpaq SRL is also growing exponentially, they exceeded the eight-digit barrier on the gross revenue in 2019
Logicpaq SRL, Conqueror member in Santo Domingo, Dominican Republic, has obtained the AOC and the CAE certificates that will permit them to operate as a cargo airline for commercial purposes. According to Mr. Frank Diaz, the General Manager of Logicpaq, "Obtaining these two important accreditations was no way an easy task -our team had been immersed in this process for the last 5 years. We had to prove our credentials and fulfil many requirements before being granted these prestigious certifications."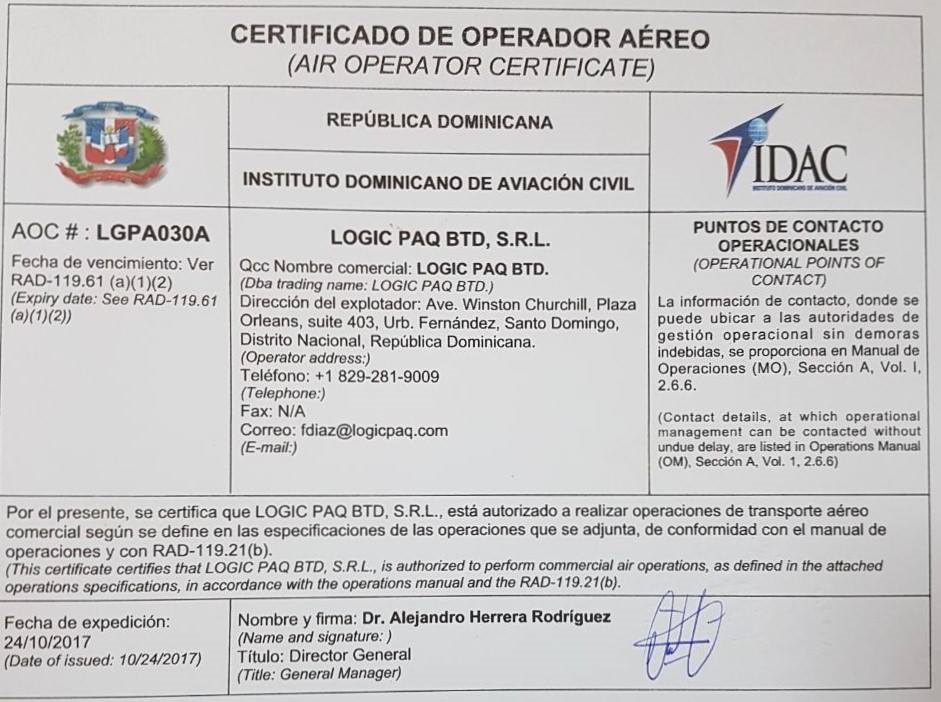 Logicpaq already has 3 of their own aircrafts for small scale operations in and around the islands near Dominican Republic and Miami, USA. One of the major advantages of this accreditation is that CQR Santo Domingo will now be able to negotiate the operational costs for air cargoes directly with the other airlines.
Mr. Diaz further added, "Moreover, I would like to express my heartfelt thanks to Conqueror Network which has been one of the major factors behind the growth of our company. We joined the network as a mid-level company, and thanks to Conqueror, today we consider ourselves a highly successful organization with our own distribution networks nationwide, and highly esteemed clients (some of which are Fortune 500 corporations). It pleases me to announce that in 2019 our net turnover surpassed the eight-digit barrier!"
Congratulations to Logicpaq and wishing them the very best for their future projects!