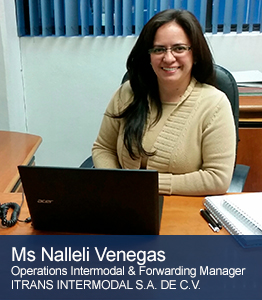 With over ten years of experience in international trade (collaborating with shipping companies, aeronautical and forwarders; organizing efficient transportation of goods in import and export shipments in every mode of transportation), maintenance of Key Performance Indicators has been part of her activities during her career to continually improve and develop an efficient logistics process.
Miss Venegas is an expert tracking cargo from the seller's facilities, pre-carriage, main carriage and documental processes the final delivery to the buyer's warehouse. Always complying with local and international rules and regulations.
Welcome on board, Nalleli!