n March 2013, EES Freight, Conqueror's exclusive agent in Singapore, was chosen by leaders in the oil and gas industry to deliver and load a Mooring Winch onto an Antonov -124 aircraft chartered from Singapore to Turkmenistan. (Winch dimensions: 2 x L 5.48 x W 3.92 x H 3.58M / each gross weight 34ton)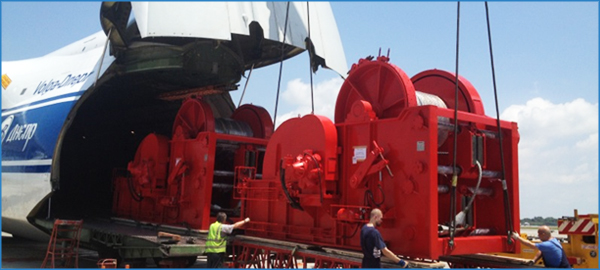 Before any loading could take place, the team had to get the winch to Changi Airport. CQR Singapore arranged for the local police to escort the low bed trailer from the exporter's premises in Singapore to the airport for standby of loading at airside.
The EES team provided a 110ton capacity mobile crane for the direct loading of the winches onto the Volga Denpr's Antonov loading system. 8 hours were put aside to load the winch, but this experienced team, which is celebrating its 30th anniversary this year, needed just 4.
After three decades in this business, CQR Singapore has cemented itself firmly as the preferred forwarder in Singapore for the oil and gas and aviation industries, to name but a few.
We welcome all members with shipments in Singapore to get in touch with the EES Freight team.