This event will be the perfect opportunity to assess the current situation of ports in the Baltic region and to predict their future in the context of development, geopolitics, climate changes and technology improvements
The Baltic Port Organization Conference 2023, a media partner of Conqueror Freight Network, will take place from the 6th to 8th of September 2023 in Ystad, Sweden. The Baltic Ports Organization (BPO) is a regional ports organization inspiring and supporting its members while cooperating pro-actively with relevant partners. BPO was established on October 10, 1991, in Copenhagen, with an aim to facilitate cooperation among the ports and to monitor and improve the possibilities for shipping in the Baltic Sea region.
The three day event will comprise of 5 sessions hosted by multiple speakers on ongoing topics crucial for the port industry in the Baltic Sea Region. The sessions will cover the following topics- Trade in Europe and the BSR, Adapting to change from the ports' POV, Future of the ferry and ro-ro market in the BSR, Impact of climate change on port development, and Electrification as a key tool for combating climate change.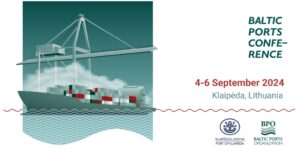 Following the keynote address and the first round of discussion on the first day, there will be be an Evening Cocktail Reception on the second day of the event at Ystad Studio Center. The third and final day of the event will focus on issues such as climate changes and financing key infrastructure. The Port of Ystad is one of Sweden's largest port for ferry traffic to Poland and Bornholm. The participants in the conference will be able to visit the port during a bus tour around the facility.
The last date of registration is 31st August 2023. Conqueror members who wish to participate in this event can find all relevant details about the conference on this website: https://www.balticportsconference.com