Aeroportos Brasil Viracopos S.A organized this award ceremony to highlight the performance of companies acting in the foreign trade for the Viracopos International Airport
Clipper Tranportes Internacionais LTDA, Conqueror member in Sao Paolo, Brazil, received the 1st prize at the Viracopos Logistical Efficiency Awards. They received the award in the Customs Clearance in the Mechanical Metal category. With 35 years of market experience, Clipper Transportes has established itself as one of the foremost players in the international logistics, advisory, and customs clearance segment.
The awards are organized by Aeroportos Brasil Viracopos S.A since 2013. The objective of the awards is to emphasize the performance of companies that play a part in the foreign trade for the Viracopos International Airport. Additionally, their long-term partner Endress +Hauser a renowned laboratory instrumentation and automation supplier nominated their name for this award.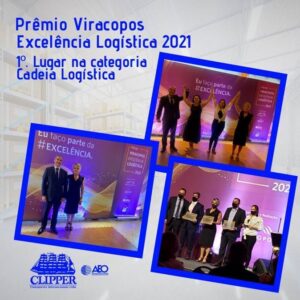 In the words of Regiane Pimenta, Sales & Operations Manager of Clipper Transportes, "Our unparalleled expertise in the customs clearance sector and our long years of experience in the industry make this award a well-deserved one. Most importantly, for over three decades our team has been facilitating the foreign trade process for our clients."
"Furthermore, we got the first prize in Galeao airport both as freight forwarders and brokers on fashion segment in 2019. Our team always ranks among the top 5 forwarders in Sao Paolo. It's really an honor to accomplish with excellence our mission, that came since day 1 of Clipper- quality, efficiency, agility, and professionalism," continues Ms. Pimenta.
Congratulations to Clipper Transportes Internacionais LTDA and wishing them the best for their future projects!