Paperwork is probably the least favourite yet the most important part of shipping dangerous/hazardous goods and as a result, many forwarders shy away from them. This week, we are featuring two of our members who regularly make such shipments and whose teams thrive on the need for accuracy and time management.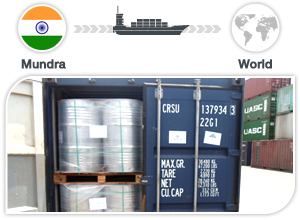 One of those companies is CQR Kandla. Every week, they ship 10-15 containers of chemicals on behalf of M/s. Industrial Solvent Pvt Ltd from Mundra to cities in every corner of the world.
During the week we spoke with them, the team were handling various chemicals including Menthol, Toluene, Acetone, Hexane, Glycol and Ether EB packed in drums and liquid form. These were packed into a 20′ GP /40′ DC / 40′ Reefer / 20′ ISO tank and carried by CMA, MSC Evergreen, Zim and OSL. The Kandla team were responsible for all packing and stuffing.
When asked what one of the main challenges was of handling these shipments, Branch Manager, Ms Sheeja, had this to say, "The biggest challenge is dealing with shipping lines for DG approvals and of course the documentation process and the labelling of the chemicals. Thankfully, with these shipments being a weekly event, our team have become experts at this!"
Our second member to frequently ship non-hazardous chemicals is CQR Denmark. They ship additives to oil and gas producing countries around the Black and Caspian Seas. Their most recent shipment travelled from Rotterdam to Klaipeda by sea and then onward by truck with container chassis to Novorossiysk.
4 X 20′ ISO tank containers / capacity 24,000L / weight net 18-18.5 ton
As if the completion of all the import and export documentation wasn't challenging enough to the time management of this shipment, Russia has introduced a new customs guarantee, whereby the TIR convention between itself and Belarus was cancelled. Nevertheless, this did not hamper the team as the shipment arrived intact and on time. They retain their status as 'experts' in this field.