This breakbulk shipment that was required for constructing a military hospital was moved via sea freight
Acconnage Consignation Transit SA, Conqueror member in Nouakchott, Mauritania, delivered 189 units of a breakbulk cargo meant for the construction of a military hospital for Covid-19 patients. Conqueror Nouakchott was in charge of the entire logistics chain of this complex shipment.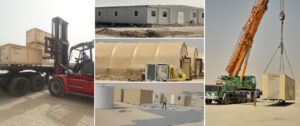 They used 24 TEU containers for moving the 189 units of cargo. The military hospital under construction is a donation from the government of the UAE. In the words of Mr. Khalil Chouaib, the Country Manager of ACT Shipping, "To begin with, we are very happy to have pulled off this shipment successfully.  Moreover, we are glad to have played a part in fostering good relations between the Mauritania and UAE governments."
They moved the containers from Jebel Ali Port, UAE, to Nouakchott Port, Mauritania. The shipment reached the consignee's destination right on time. "Lastly, I would like to add that the ACT team is proud to assist the Ministry of Health of Mauritania during these difficult times," adds Mr. Chouaib.
Congratulations to CQR Nouakchott, and best of luck with their upcoming projects!