CQR Istanbul, Ekol Logistcs now has a hatrick of International Logistics Operators (L2) awards, after winning again at Logistrans 2012 Transport Logistics Exhibition in November 2012, beating off stiff competition for the third year in succession
 The Logitrans awards cover 13 different catagories and all nominees were assessed by a panel consisting of representatives from sectoral journals and civil society organizations in the industry. CQR Istanbul was awarded for its achievements in total turnover (US$), number of employees, number of trips abroad, number of branches abroad, number of self-owned vehicles, turnover of foreign sea transport (Tons) – (TEU), foreign air transport (USD), foreign railway transport (Tons), covered storage and warehouse areas.
November 2012 turned into an 'awards season' for Ekol with them also receiving the special 'Superman' award at LÖSEV's 14th Anniversary Ceremony. LÖSEV is a non-profit foundation for children with Leukaemia providing them with emotional and financial support as well as health services.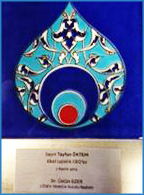 You could be forgiven for thinking, "What does Ekol have to do with LÖSEV?" Well, Ekol provides logistical support when required; in particular with the use of its warehouses in Ankara and Izmir to store LÖSEV's support packages as well as assisting in the timely delivery of the packs to those who need them. In addition, Ekol's vehicles were used to transport the materials for the "Village for Children with Leukaemia" constructed by LÖSEV.
CEO, Tayfun Öktem, was there to receive the award on behalf of Ekol. When asked about their involvement with LÖSEV, he had this to say. "Ekol's success allows us to offer our services for free to worthy organisations like LÖSEV and it is also important to give something back to the local community and more widely to our country. No-one knows when it will be them that is in need of assistance and therefore it is important to assist where you can when you are able; this is our belief at Ekol."
It is clear that there is far more to Ekol than being a business, it is a humanitarian too.