The environmental concerns in the 21st century have prompted the transportation and logistics industry to think beyond cost-effectiveness and customer satisfaction and start taking active steps to protect the environment like never before. In the lead-up to the World Environment Day, on the 5th of June, our topic in focus is how logistics companies can reduce their environmental footprint for a cleaner and greener tomorrow.
The ever-increasing demand for consumer goods and raw materials directly translates into a negative environmental impact. Sustainability in the logistics industry implies the implementation of environment-friendly measures. Nevertheless, achieving sustainability in our industry implies the reduction and not the elimination of environmental concerns. The theme of World Environment Day for this year is 'Ecosystem Restoration'. Keep reading this blog to find how independent freight forwarders should focus on enhancing every aspect of their operations in a way that will increase their efficiency while helping to restore the ecosystem.
The importance of sustainability for the transportation and logistics industry
The idea of introducing sustainability to transportation and logistics is now more important than ever before. A large number of multinationals are now embracing sustainable logistical operations for the benefit of the environment as well as to boost their corporate image. The future of the planet and the protection of the environment are presently two of the most discussed topics among the governing bodies all around the world. Additionally, climate change, increasing fuel costs, and the alarm over greenhouse gas emissions are factors prompting the industry leaders to adopt a green supply chain strategy. In other words, this strategy highlights the need for reduced pollution, energy, and dumping of waste.
Steps being taken by the industry leaders in the logistics industry
Some of the top names in the last-mile delivery industry such as DHL, UPS, USPS, and Amazon are implementing new strategies to introduce sustainable supply chain practices. For example, Amazon has declared to become carbon neutral in less than 10 years. In order to do so, they are investing in renewable energy and battery-operated fleets. USPS is making use of trucks powered by propane autogas that will enormously lower their carbon emissions. Maersk has always been a leader in this field since its green supply chain strategy initiated way back in 2007 has resulted in a 25% reduction in carbon emissions. Sustainability is a major component of the overall strategy of DHL. Moreover, they are even releasing sustainability reports and even running a podcast on this topic.
A joint sustainability programme has been created by BASF, Evonik Industries, Henkel, Bayer, Lanxess, and Solvay called 'Together for Sustainability'. This programme aims to foster and implement a global supplier engagement agenda for the assessment and enhancement of the sourcing practices of the chemical industry. According to Gabrielle Unger, the General Manager of Together for Sustainability, this programme" aims to create synergies so that resources can be used more efficiently and with minimal administrative effort."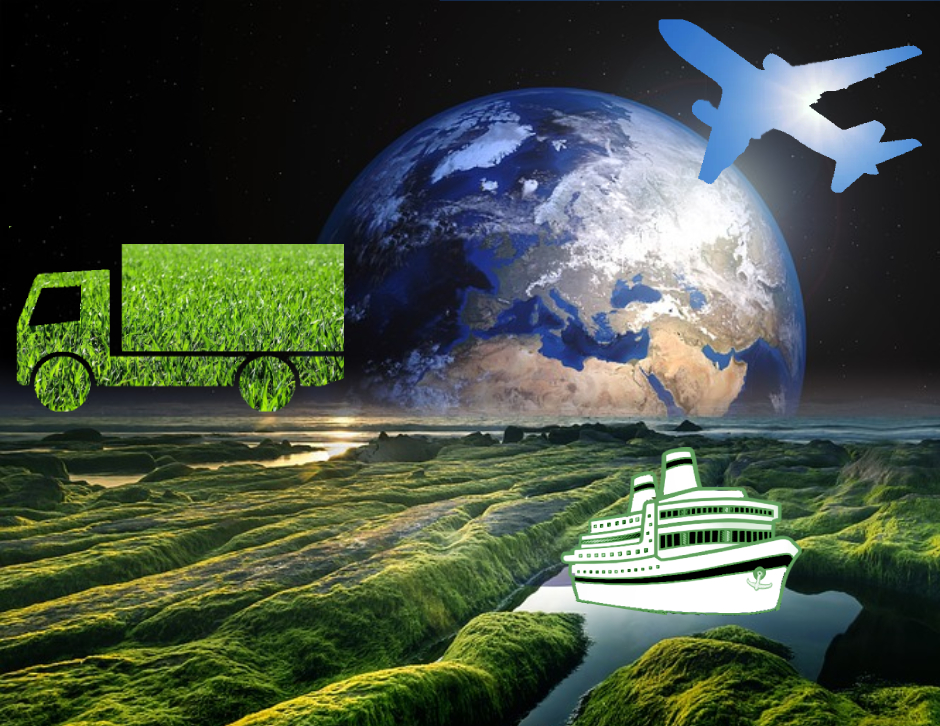 How independent freight forwarders can reduce their carbon footprint
Sustainability in the transportation and logistics industry allows reducing the environmental impact of its tasks.  In other words, it helps to mitigate CO2 emissions, noise pollution, and accidents.  Not just the multinationals but even the independent freight forwarders should seek a balance between economic growth and environmental concerns.
Let us now discuss a few easy to follow sustainability tips for independent freight forwarders:
To begin with, for ground transportation, logistics companies should consider using fleets that run on alternative fuels. Presently, many small and mid-sized companies in our sector are investing in electric vehicles that are capable of long hauls. Additionally, increased use of rail freight for ground transportation is also an environment-friendly approach. Moreover, using low-carbon fuels and replacing old trucks with new eco-friendly vehicles can be a good start.
Use LCL freight shipping frequently
LCL or Less than Container shipments optimizes the container's or truck's cargo space by accommodating shipments from several carriers within the same delivery. Therefore, depending on the nature and size of their shipments, the logistics company should always favour LCL shipments over FCL. This mode of shipping is more cost-effective and fuel-efficient and has always been regarded as being more ecological.
Try to use bio-degradable packaging
It is very important for the transportation and logistics industry to make use of environment-friendly packing materials that greatly lowers the ecological impact of packaging waste. Moreover, participating in large-scale recycling programmes and cardboard recycling endeavors will also allow you to recycle a substantial volume of your packing materials.
Avoid air-freight when possible
In case of shipments that are not time-sensitive, freight forwarders should always choose rail freight and sea freight over air freight. Although air shipments are unavoidable for the speedy international movement of time-sensitive cargo, it is also the source of high CO2 emissions. Its carbon emission rate is almost 40 to 50 times higher than sea transportation.
Practicing cross-docking helps to lower the carbon footprint of logistics companies. It implies the unloading of shipments from the inbound truck directly onto an outgoing vehicle. It allows the inventory to steer clear of the warehouse back stock and circulate in and out in a time-saving manner. Simply put, cross-docking helps in substantial power savings in terms of cargo transported both inside and outside the storage facility.
Select your routes carefully
A well-thought-out route selection process goes a long way towards sustainability. Multi-modal shipments when properly executed not only help to save time and money but also has a relatively less environmental impact. In addition, you can always use the route optimization software that helps to calculate the shortest route from the origin to the destination.
There are many ways for freight forwarders to reduce their carbon footprints. Rather than focusing totally on the transportation process, you can also make sustainable choices by making use of renewable energy in your facilities. Water recycling systems, solar systems, and clean energy-powered electricity in your offices, warehouses, and distribution centres are excellent ways of making a positive environmental impact.
Digitization has not only made the logistical operations more efficient but has also led to increased sustainability by the elimination of the use of papers. For example, a freight quoting software will allow you to send a tailor-made quotation to your client in less than 1 minute. Earlier this process would have involved lots of phone calls and paperwork which is no longer the case.
In conclusion
Lastly, the small and mid-sized players in the transportation and logistics industry should bear in mind that embracing sustainability not only helps to reduce the ecological impact of the operations but also helps to boost the corporate image of a company. In other words, your clients are becoming increasingly aware of your sustainability endeavors. Poor decisions on your part might lead to a massive backlash and boycott by your environment-aware clientele. On the other hand, your environment-friendly endeavors will greatly help to enhance the public perception of your brand.