One of the most important news from the container shipping industry in the last week is the integration of container carrier giants ONE and Hapag-Lloyd with Maersk's TradeLens platform. This move comes two years after the two carriers expressed their willingness to join Maersk's blockchain platform. TradeLens is a blockchain-enabled supply chain platform launched by Maersk in partnership with IBM. Its objective is to eliminate paper-based manual documentation processes that lead to slow handling and processing. ONE and Hapag-Lloyd were keeping pace with the technological transformation in the sector and this integration is one step further in their digital endeavor. In this blog, we are going to discuss AP Moller Maersk's TradeLens platform and how it is all set to revolutionize the container shipping industry.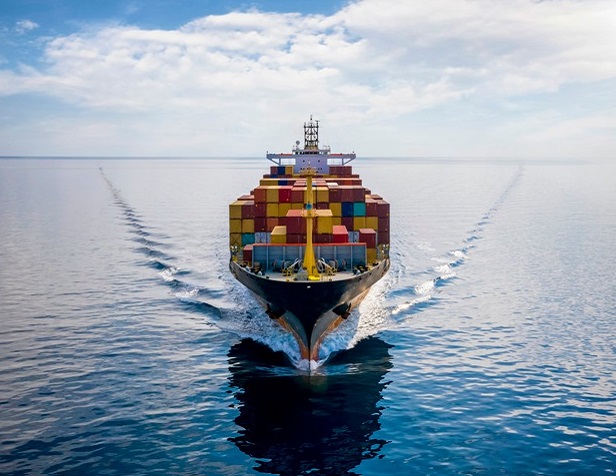 A bit about Maersk's TradeLens
Maersk teamed up with IBM and GTD Solutions to develop this blockchain-enabled digital shipping platform. TradeLens is an open supply chain platform that allows for information sharing. Its major advantage is the promotion of increased collaboration among major players across the supply chain. Putting it simply, it promotes innovation in this sector, lowers friction among competitors, and helps to foster international trade. It helps to join several stakeholders in this industry including shipment owners, inland and sea carriers, logistics service providers, port and terminal authorities, customs authorities, freight forwarders, and more. Additionally, it constantly develops services and applications that can be seamlessly integrated with the platform.
Prominent names in the container shipping industry such as CMA CGM and Mediterranean Shipping Company have already integrated with the TradeLens platform. This has been followed by the integration of ONE and Hapag-Lloyd. Apart from this, several ports and terminals, customs authorities, and digital shipping companies are also part of the TradeLens platform. TradeLens presently includes over 300 organizations making available data from over 600 international ports, and ten ocean carriers. Till date, it has processed almost 2.2 billion events, 42 million container shipments, and around 20 million documents. Its primary importance is the digitization of data leading to automated and seamless workflow.
About Ocean Network Express
Ocean Network Express aka ONE was founded in 2017. It was created after the merger of Kawasaki Kishen Kaisha, Mitsui OSK Lines, and Nioopn Yusen Kaisa. It has its headquarters in Singapore and regional headquarters in the UK, USA, Hong Kong, and Brazil. ONE is the 6th largest container shipping company in the world. It has an average fleet capacity of 1.55 million TEUs and operates over 210 ships. It provides container shipping services in over 120 countries.
In the words of Jeremy Nixon, the CEO of ONE, "We believe TradeLens can bring together all parties in the supply chain to the digital ecosystem where customers can get seamless, transparent, and secure sharing of shipping milestones and trade documents. With its open standards and open governance, it can benefit our customers and the entire industry to drive for digitization and automation."
About Hapag-Lloyd
Hapag-Lloyd is a German international container shipping company operational since the 1970s. Its fleet of 241 vessels comes with a net transport capacity of 1.7 million TEUs. With 395 offices across 131 countries, it has one of the largest fleets of reefer containers. Hapag Lloyd is one of the most renowned operators in the Middle East, Transatlantic, Latin American, and Intra American trades. It connects over 600 international ports and presently has the 5th largest ocean fleet in the world. After its integration with the TradeLens platform the Hapag-Lloyd CEO, Mr. Habben Jansen remarked, "Our customers will clearly benefit from increased transparency, accuracy, speed and efficiency in their supply chains – leading to reduced cost."
How the integration will help the two companies?
The integration of the two container shipping multinationals will allow TradeLens to provide more visibility. In other words, the addition of data from these two multinationals will improve the visibility of data in the ocean cargo shipping industry. This integration will account for a net capacity of over 3 million TEUs. Moreover, these two firms were experimenting with the technology to make sure that the platform was able to receive the bill of landing data and connect it to the appropriate shipment. Henceforth, their customers will be able to seamlessly connect their important supply chain partners to the platform. This will result in increased visibility. Furthermore, all the members of this platform will contribute the data of their milestone events that the sanctioned members can easily access.
TradeLens obtains the data from the carriers while they get free access to the platform. The data of the carriers help to augment the transparency across the supply chain. However, shippers and consignees who want to access the data are required to get into a contract with TradeLens. The shippers have to pay per shipping container that TradeLens makes visible.
Tips for independent freight forwarders to keep pace with the digitization trends
In a time when all the multinationals are competing to utilize the latest in freight technology, the small and independent freight forwarders should also start preparing themselves to keep abreast with the digital trends. Simply put, the small and mid-sized logistics companies need to stop relying on manual processes involving paperwork. In order to help the members take the first step in the digitization process, Conqueror provides its members free access to FreightViewer– a quote-generating software.
This freight quote-generating platform not only digitizes the quote generation process but also helps with the sales process. Additionally, it leads to increased visibility, reduces response time, and improves customer experience. Most importantly, it offers a standardized platform through which agents can send/request freight quotations. It also allows the members to exchange documents, and even share the freight rates with partners outside the network.
Furthermore, Conqueror has recently partnered with Shipco Consolidator, one of the world's leading neutral NVOCC. This allows our agents to directly access the Shipco LCL rates from FreightViewer. The immediacy offered by this platform allows users to quote within seconds. They are not only able to share their own rates but even the rates from an external provider. This is surely a vital step that enables logistics companies to automate their processes, provide speedy responses and serve their customers in a more comprehensive manner.