The Digital twin (DT) technology which has made its way into several sectors is increasingly finding a place in the freight forwarding industry alongside Blockchain and Artificial Intelligence. The recent launch of Google's Supply Chain Twin – a cloud-based solution that allows companies to create a digital twin- has finally heralded the full-fledged adoption of this relatively new technology. This blog will provide you with a brief introduction to the digital twin technology and also touch upon the several advantages it offers for the transportation and logistics industry.
The need for digital twins in the supply chain industry
The innumerable disruptions in the supply chain sector over the last two years of the pandemic have highlighted the importance of predictability and resiliency for companies in the transportation and logistics sector. Digital twin virtually simulates the real supply chain of a company that can be used for analyzing supply chain dynamics and forecasting the success of operations. Supply chain digital twins use real-time data from sources such as IoT devices, transportation, and logistics databases, invoices, CRM data, operations databases, online user reviews and more.
Digital twins can help to prevent a crisis by anticipating future scenarios. They can formulate alternative strategies to ensure optimum customer service at the lowest possible rate. It allows companies to recreate a variety of operations including sea freight shipping, air freight operations, trucking, warehouse inventory, inventory in the distribution centres, last-mile delivery, and more. The use of DT in the freight forwarding industry enables enhanced cooperation across planning, operations, and distribution. It makes sure that all the stakeholders of the shipment are on the same level of understanding of the operation underway.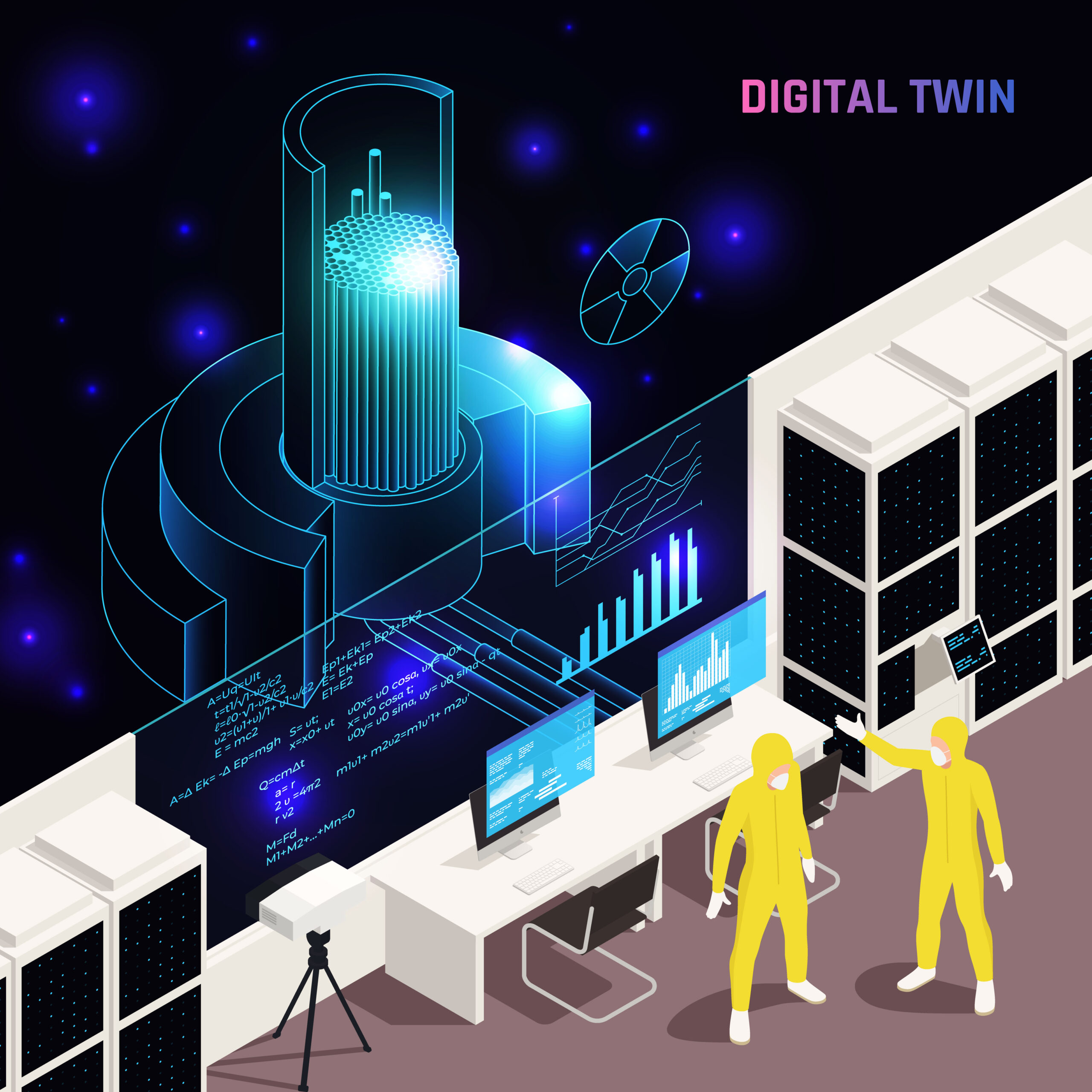 The possible practical application of digital twins in the freight forwarding industry
Even though the concept of the digital twin first came into the picture as early as 2022, it came into prominence with the widespread application of IoT technology. Let us now take a quick at the several ways in which this technology can be applied to the logistics business to appreciate the limitless potential of DT.
Optimization of supply chain processes by performance prediction
DT technology can help enterprises enhance the design tests of supply chain processes. For example, digital twin models in the supply chain help with business continuity and minimize transformation risks by outcome forecasting. Companies in this sector can use the DT models to predict benefits, cost savings and potential ROI before implementing a transformation in their business processes. Logistics companies can use DT models to reevaluate their international operations by simulating numerous scenarios including shipping data, inventory and distribution. It allows logistics managers to come up with the best plan of action for emergency situations. By trying several crisis scenarios in a virtual environment, it can considerably enhance the stability of an enterprise.
Identification of logistical bottlenecks
Digital twins can provide companies with a constant end-to-end view of their operations along with possible supply chain bottlenecks. In other words, it leads to agile resolution of issues with minimum human intervention. The collection of all kinds of information allows digital twins to identify the probable loopholes in the shipment process.
The best transportation and logistics companies usually come up with yearly strategic plans using thousands of spreadsheets. DT can make use of this data and allow the companies to review the short and medium-term plans several times a year. The supply chain digital twin can help in strategic planning and can be used for the assimilation of data of all kinds both structured and unstructured. Moreover, supply chain twin can also forecast possible hazards and simulate multiple options to prevent or surmount them. Lastly, DT can also help companies with operational planning so that logistics managers can keep up to date with new bottlenecks at ports, or airports. It helps to plan other routes and affordable alternatives to move a shipment from point A to B.
Better supply chain visibility
Most companies in this sector don't have enough visibility of their supply chain. The result is backdated inventory at manufacturers and stock-outs at the retailers. The two years of supply chain disruptions have demonstrated the need for more operational insights that will allow companies to dynamically adjust inventory levels and fleet routes. DT collates information from many sources allowing even the suppliers, partners, and other stakeholders to view the datasets.
Optimization of inventory
By collecting data from demand forecasting processes, this technology can help to lower the costs of warehousing. Simply put, the digital twin technology can help to address the challenges of inventory optimization in a single warehouse as well as help with the optimization of inventory across a network of warehouses.
In conclusion, we can say that, within a couple of years, even small and mid-sized logistics companies will be able to use DT for making digital replicas of containers, packages, parcels, warehouses, distribution centers, and basically the entire supply chain. Additionally, widespread use of digital twins technology will allow freight forwarders to detect all the supply chain issues, predict market volatility and optimize their planning. Although this concept is relatively new, it will soon become the norm in our industry. This is because tech innovators like Google are developing the digital twins technology, particularly for the supply chain industry.
To quote Hans Thalbauer, the MD of Supply Chain and Logistics at Google Cloud, "Siloed and incomplete data is limiting the visibility companies have into their supply chains…The Supply Chain Twin enables customers to gain deeper insights into their operations, helping them optimize supply chain functions from sourcing and planning to distribution and logistics."