We have reached a time when the freight forwarding industry has become dependent on digital technologies like never before. Logistics service providers around the world are already leveraging digital transformation to streamline their processes, integrate new initiatives, satisfy customer expectations, save time and money, and adapt to the changes in market demands and business scenarios. Additionally, the multinationals are experimenting with industry-defining technologies and expanding to new markets, and gaining new clientele. In this scenario, it has become imperative for small and independent freight forwarders like you to implement an effective digital strategy.
Nevertheless, one of the prerequisites of digitizing your business is considering investments in an IT team. More often than not, small and mid-sized logistics companies do not have the resources to implement digitization. As one of the best freight forwarding networks on the globe, Conqueror Freight Network, offers its members a highly useful digital platform -FreightViewer. This member-exclusive transport management system allows Conqueror members to share their freight rates online, generate customized quotations instantly, share shipping documents, manage their customers and profit margins, and much more. As a member of the largest exclusive logistics network, you can access this groundbreaking online shipping quote tool absolutely free of charge.
In this post, we've shared many useful tips that will help you make the most of Conqueror's freight rate management tool, FreightViewer.
How FreightViewer is different from other Transport Management Systems?
Conqueror's FreightViewer is providing more than 260 independent freight forwarders with the capacity to upload, and compare freight rates online, receive/send quotations instantly, create a personalized quoting website, and arrange and share shipping documents with just a few clicks. In other words, this groundbreaking transport management system is offering a digital strategy that is allowing the member companies to effectively compete against the multinationals in the freight forwarding industry.
Additionally, this TMS processes all the quoting operations within one single channel. This in turn enormously augments the operational efficiency of the members and pushes them a step further toward becoming a digital freight forwarder. Freight Viewer gives you the instant quoting ability, ensures accuracy of quotation, streamlines the steps involved in logistical operations, and enhances online visibility.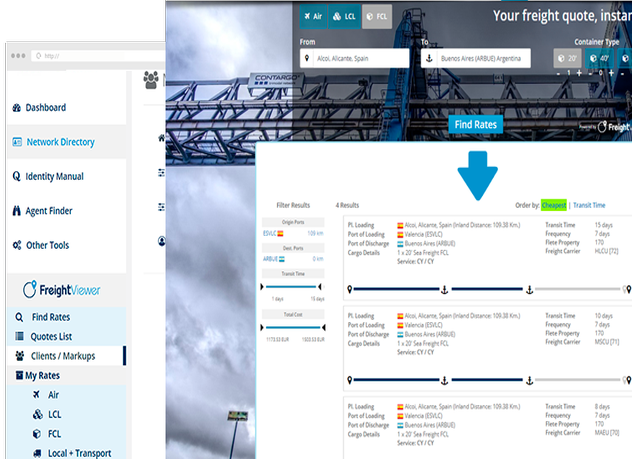 There are several companies like Cargowise, Freightos, Flexport and containers who are pioneers of the digital freight forwarding scenario. However, none of these above companies has something that FreightViewer has. Conqueror is the first logistics network that is allowing small and mid-sized logistics companies to digitize vital aspect of their business. Apart from its use as an online shipping quote tool, FreightViewer enables the members to exchange rates and create a 24×7 showcase of their freight rates for customers without investing a dime. This transport management system allows Conqueror's agents to access the freight rates from members across 260 cities across 135 countries. Additionally, it even creates customized quoting websites for all the members.
Tips to make the most of FreightViewer
This should be your first step in making the best use of this TMS. This first and crucial step will go a long way in simplifying your quote generation process ensuring accuracy and response time. It would be vital for you to upload your local and international freight rates so as to digitize the quoting process. By uploading your freight rates, you will be able to create a personalized PDF of your quotation within less than a minute. Moreover, you will also be able to sell your rates online to your network partners as well as your clients.
It takes more or less 20 to 30 minutes to prepare a standard door-to-door quotation. Therefore, your sales department ends up devoting considerable time for manually generating a quotation. Additionally, not all of these stop quotes end up in a concrete project. FreightViewer will allow you to reduce your quote generation time to less than a minute. Just upload your rates and the quotation will be instantly available for viewing by you, your customers and your partners. Simply put, it saves a lot of time which can be invested in streamlining other essential aspects of your business.
Manage your profit margin and create your clients' database
Collating and systematizing the client data allows you to come up with comprehensive customer profiles. With FreightViewer you can classify your customers into several categories depending on the profit margin set. Freight Viewer applies this profit margin while generating the quotation for each individual client. Therefore, you can easily create a customized quotation for each of your clients instantly. The categorization of your customers helps to offer a personalized quote for each of them. It goes without saying that it also helps you successful manage your profit margins.
Furthermore, FreightViewer allows you to list all your customers by adding their contact details. It creates an easy-to-use database for all users who have access to the software. It is common knowledge that visibility and information sharing are two vital aspects of digitized and systematized workflow. Conqueror's transport management system even provides the option of adding notes to client profiles. This allows all the employees of your team to offer personalized services to your customers.
Take advantage of the case-by-case quoting option
Although uploading your freight rates is the easiest way to use FreightViewer, situations might arise when a digitized rate is not available on the platform. In such a scenario, FreightViewer give you the chance to quote case-by-case. In this option, you need to manually input the quote to create a customized quotation for the request. This feature comes in handy in those cases when rates are unavailable or when the quote requires more customization.
Additionally, the case-by-case option allows you to send/receive quotation requests to/from your network partners. FreightViewer saves these request automatically in your quote list. Plus it is sent to your email as an automatic notification. Similarly, while you send a quote request to another Conqueror member via this platform, it sends an email with detailed info and instructions to answer the quote request. Simply put, this new feature helps to save considerable time and effort by allowing you to just type in the details only on one platform. FreightViewer sends this data you have entered to all the corresponding contacts.
Promote your company within the network
Your fellow CQR members and even their clients can view your uploaded rates on FreightViewer. Therefore, this TMS gives you the opportunity to offer your freight rates to over 260 logistics partners and potential customers. Therefore, it greatly increases your sales leads without much effort or investments. Moreover, it allows you to access the rates uploaded by your fellow members at any time thereby generating a unique rate sharing process where data is exchanged end to end, from the carrier to the customer. Additionally, Conqueror publicizes those agents who upload their rates on the system. This not only increases the visibility of the agent but even encourages other agents to upload their rates.
Design and create a personalized quoting website of your company
FreightViewer gives you the chance to create a personalized quoting website for your company. Your customers will be able to register and login to this website and avail of customized quotations 24×7. This also implies that you can provide instant feedback to your customers all round the day.
Another important benefit of FreightViewer is that even if you don't upload your rates or they are temporarily unavailable, your clients can send an automatic form with all the information regarding the shipment. You will receive this form instantly via FreightViewer and email. This allows you to lose out any customer because of delayed response time. In other words, this useful online shipping quote tool allows you to create top notch customer experience. It is your first step towards online freight forwarding that will eventually help you get ahead of your competitors.
Digitizing your quote generating process can only be complete when the tool permits enough flexibility. This is because not two customers are alike- each have their unique needs and expectations. This is why, a standard online quoting platform isn't the best solution for logistics companies. With FreightViewer, you can edit all the quotations previously saved by you or one of your clients/partners. Furthermore, this feature is especially useful when you need to offer each individual customer with a different transportation option or provide an even better offer.
The ability to conduct the entire quote generation process on one channel allows your team to work in a fast and efficient manner. One of the most important benefits of working with FreightViewer is that it records the changes under 'Quote History'. Under Quote History you will see all the alterations made and the person who has made them. Therefore, it gives you a firm control over your pricing strategy, giving you the option to create realistic pricing boundaries.
Take the personalized training to better use this platform
Conqueror's FreightViewer Department invested substantial time, effort and investment to develop this online freight quoting tool. At the Conqueror head office there is a dedicate team who works constantly to enhance the platform and its capabilities. Moreover, we also provide the members with details information about the correct use of this tool as well as personalized demonstrations. Make sure to book your personalized demonstration to make the best of this transport management system. Although this platform is absolutely easy to use, taking an one-to-one training will help you better grasp its technicalities.
Unlike any other transport management system in the market, you can use FreightViewer for free. This is probably the greatest advantage of this platform considering the exorbitant expenses of the other software. This is why, the best way to know more about Conqueror's TMS is by starting to use it!