Small business owners often make use of accounting reports to track financial data and keep score. They provide valuable insights into the financial health of a company. They also help the companies to systematize vital business transactions, monitor invoices and check into the legal matters. Independent freight forwarders who don't track the financial info run the risk of getting into critical business situations. This can include slow cash flow, or even lead to bankruptcy in some cases. Accounting reports can help the small companies to create a financial database for making important business decisions. In today's blog we are going to talk about why small businesses need accounting reports and how it can benefit their companies.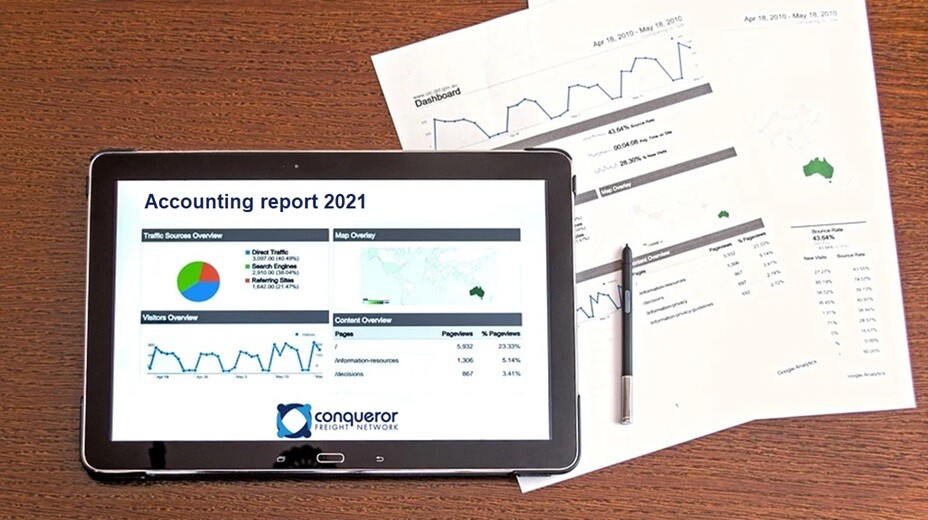 What are accounting reports?
An accounting report or financial report provides a glimpse into the company's financial situation at any given time. Some of the most common examples of accounting reports are balance sheets, free cash-flow statements, owner equity statements, and statements of profit & loss. We also have more specific accounting reports like consolidated income statements (for companies with branch offices). However, all these kinds of reports have one basic objective- to project the financial status of the company.
Your company's management should be in charge of preparing these reports. They need to prepare these reports as per the accepted accounting standards. These accounting reports can be shared with the lenders, insurers and shareholders of your company. Although, you will not be able to use them for filing tax but they will definitely allow you to figure out your company's tax liability.
Why your company needs accounting reports?
Financial reports can be used by all independent freight forwarders irrespective of the size of their business. A properly created accounting report will help your company to easily find the financial statements. Like we already mentioned, they help to keep a record of your business's transactions, income, cash flow, etc. Additionally, they also lower the risk of reporting discrepancies to auditors, investors and tax officials. There are harsh penalties for inaccurate accounting and for this reason a proper accounting report is necessary. They are also vital for reducing chances of fraud on part of the companies.
A financial report is critical for understanding how much money you have, where your money is coming from, and where your money needs to go. Financial reporting is important for management to make informed business decisions based on facts of the company's financial health. In Conqueror, we are very particular about the financial health of our members. Companies who want to become a part of our network need to submit the balance sheets of the last 2 years. These balance sheets are used to verify the financial stability of the companies. CQR members are required to meet minimum standards in liquidity and gearing ratios.  To enable us to study the company in depth, we require the balance sheets for the last 2 complete financial years. This is just an example of why your company needs to create a detailed accounting report.
Common forms of accounting reports
As already mentioned above, the most common forms of accounting reports are balance sheets, income statements, and free cash flow statements.
Income statement: Profit and loss statements or income statements enumerates the profits you've made over a specific time period. Companies use them to understand their strong and weak points. Apart from this, they also provide a comparison of a company's present performance with that from previous months/years.
Balance sheet: A balance sheet consists of your liabilities, equity balances till the date of the sheet, and ending assets. Simply put, it allows a glimpse into the financial health of your company and can be used to determine your company's liquidity and financial reserve.
Cash flow statement: This is a financial statement that sums up the amount of money and money equivalents entering and leaving your company. They are used to access the cash generation capacity of a company for paying off its debts and for sponsoring its operational costs.
Shareholder equity statement: These statements break up the total book value of your business into several categories. They are presented to the shareholders to demonstrate the exact worth of the investment in case the business is to be liquidated.
Data visualization of accounting reports
Data visualization of accounting reports allows the managers to better deal with the large volume of financial data. Visualizing the data allows them to easily process it and come to a wise decision. It is an easy and effective way of dealing with the problem of data overload. Nevertheless, data visualization in accounting isn't an easy process. This is because it can lead to an endless puzzle of tables and numbers. For example, a freight forwarder offering multiple logistical services needs to have an exact and easy view of the cash that flows in and out of its various departments.
This is where a dashboard software can come into play. They will provide you with real-time visualized data that has a positive effect on your financial decision-making process. Moreover, it allows you to add data alerts that will notify you about any significant change in the financial info. Data visualization tools are a foolproof manner of explaining all your operations in a way that can be easily understood by anyone.
How to use the accounting reports

Financial reports are mainly used by a company's senior executives for evaluating the economic situation and for measuring results. Above all, the reports provide crucial insights that influence decision-making regarding vital business strategies. For instance, the income statements help to tally the operational results with the previous year/month. This helps the companies understand the number of available resources for further investment or expansion. Reviewing them allows companies to ascertain when, where, and how the investments need to be made for boosting ROI, while reducing expenses.
Apart from senior executives, a few other parties are also privy to the accounting reports. These parties are-
Accountants: They review the financial statements to determine the efficacy of certain tax strategies. They also use these reports to value a company before a sale.
Insurers: Insurers would want to check your financial statements to assess the kind of insurance that you should select. Moreover, it allows them to determine the required coverage for the proper protection of your assets.
Banks: The banks would want to look into your accounting report to determine if you'd qualify for a load.
Shareholders: Your existing and potential investors might also ask for an accounting report to determine your business's worth and its prospects.
In brief, these are a few of the circumstances where you might be needed to provide an accounting report. The purpose behind this is to provide a deeper insight into your current financial standing to the concerned parties.
Accounting report software
Freight forwarders can make use of online tools to prepare accurate accounting reports in a jiffy. Instead of hiring an accountant, many small freight forwarders find investing in accounting reports software an easier and cheaper option. A dependable accounting tool with add-on features will ensure your company's compliance with tracking and reporting procedures. Moreover, it does the job much more quickly thereby allowing you to focus on the other important aspects of your business. Lastly, they reduce all chances of human error thereby making your financial statements absolutely accurate.