Building strong relationships is the foundation of success for independent freight forwarders, and this is precisely what Conqueror's 10th Annual Meeting at Bali can facilitate. Networking stands out as a pivotal element in your journey to explore fresh business opportunities and enhance your brand presence. What's most critical, though, is that active networking can open doors to numerous new projects from your international network partners. Nevertheless, fruitful business meetings encompass more than just these aspects. The new bonds you'll establish, whether over a drink, during day trips, or through casual conversations during coffee breaks, represent the intangible elements that will enable you to forge deeper and more meaningful connections with your partners.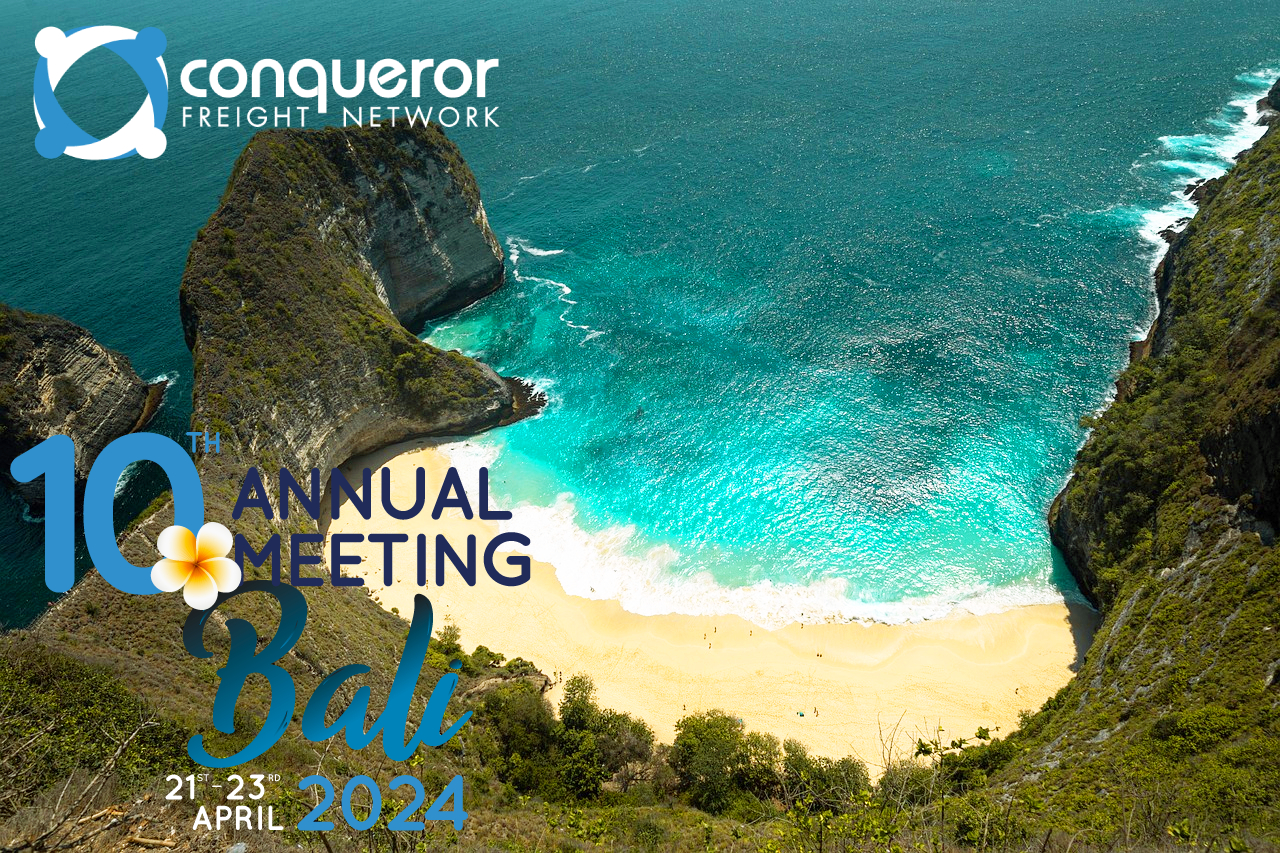 Conqueror's 10th Annual Meeting: A perfect networking ground for freight forwarders
As the largest exclusive logistics network, Conqueror Freight Network has agents in 270 cities across 140 countries around the world. Together, these forwarders collaborate to expand their businesses and provide global coverage. Remarkably, as a consortium of dependable forwarders, it possesses superior resources in terms of size and an even wider global reach compared to some of the largest multinational logistics companies. Furthermore, Conqueror Freight Network has achieved the distinction of being the first freight forwarders network to offer a complimentary Transport Management System (TMS) accessible to its members. This member-exclusive TMS, known as FreightViewer, empowers users with instant online door-to-door quote generation and a host of other advantageous features.
Each year, Conqueror Freight Network orchestrates an Annual Meeting, a pivotal gathering where members convene in a single location, substantially reducing expenses and time spent away from their offices. Instead of traversing various countries and cities to meet the same number of people and engage in similar business exchanges, members need only travel to one destination.
The 10th edition of Conqueror's Annual Meeting is scheduled for 21st to 23rd April in Bali, Indonesia.
What makes Conqueror's freight forwarders conference unique?
This conference ranks among the top freight forwarding gatherings due to its substantial attendance. Crucially, Conqueror Freight Network employs a stringent selection process to ensure that the agents available for networking are among the most reliable forwarders in their respective territories. With representation from nearly every country, this promises to be one of the most productive conferences for freight forwarders.
The network's exceptional networking environment fosters active collaboration among members. Moreover, Conqueror takes proactive steps in the unlikely event of payment issues, offering a secure platform for cooperation. As one of the best logistics networks of our era, Conqueror meticulously designs its Annual Meetings to provide delegates with an optimal venue, atmosphere, and agenda conducive to sparking innovation and deepening engagement. Beyond the productivity that the event will undoubtedly cultivate, what truly matters are the invaluable moments of one-on-one connections. Despite the significant advancements in digital communication methods such as emails, video calls, and text messages in recent years, in-person meetings remain a vital component in establishing a culture of trust. They play a pivotal role in nurturing rapport with partners and forging deeper connections.
Some of the highlights of our Annual Meeting are as follows:
One to one meetings with your network partners
Sitting one-to-one with your existing and potential partners is the most important factor for broadening your business horizons. Furthermore, in-person interactions foster a sense of community within the network, facilitating socialization and interaction among all our agents. This, in turn, forms the bedrock of trust and cultivates stronger working relationships.
Group tour to explore the marvels of Bali
Conqueror's 10th Annual Meeting will also include a corporate day trip with the delegates and their spouses to the World Heritage Sites of the Taman Ayun and the Tanah Lot temples. A key aim of this day trip is to create a platform for attendees to connect with their fellow network members in an easygoing and informal environment, fostering the development of robust professional relationships and the potential for future collaborations.
Why you need to be a part of Conqueror's 10th Annual Meeting?
Build New Partnerships
Strong and enduring partnerships are paramount for the sustained success of small and mid-sized logistics companies. Meeting face-to-face with a multitude of business partners from all over the world fosters an atmosphere of trust, laying the foundation for deeper connections and, ultimately, long-term collaborations. A friendly discussion over a cup of coffee extends relationships beyond the immediate project, nurturing trust and camaraderie.
Showcase your company's achievements
Conqueror's 10th Annual Meeting presents an ideal opportunity to showcase your company to a distinguished audience of over 270 reliable independent freight forwarders representing over 140 countries worldwide. This event allows you to effectively promote your company, highlight its credentials, and emphasize its strengths to individuals who hold significance for your business. Engaging in direct conversations with both current and potential collaborators significantly enhances your chances of securing new projects.
Facilitate Quick Decision-Making
The in-person meetings organized by Conqueror Freight Network are renowned for expediting decision-making processes. Rather than dedicating weeks to email exchanges and phone calls, an annual face-to-face meeting to hash out project details proves significantly more productive. Moreover, these gatherings allow you to deliver online presentations of your company, visually conveying your ideas and ensuring your partners grasp your vision. For subsequent follow-ups, email and phone communication remain reliable options.
Effortless Communication and Addressing Sensitive Matters
In-person meetings facilitate seamless one-to-one communication by enabling both parties to interpret nonverbal cues, such as facial expressions, gestures, and body language. This not only enhances clarity and reduces the risk of misinterpretation but also facilitates discussions on sensitive topics. For instance, conversations regarding estimated project costs or concerns about upcoming projects become much more manageable during face-to-face meetings. These meetings empower you to express your opinions and viewpoints clearly before project finalization.
After the success of our previous freight forwarder's conference, Conqueror Freight Network is once again gearing up to unite delegates for a three-day, in-person meeting in the marvelous island of Bali. This gathering promises to enhance networking opportunities, foster engagement, and cultivate relationships. Beyond the formal business meetings, you'll have the chance to interact with your partners in more relaxed settings. The cocktail reception, the dinner party, and the day trip are some of the informal activities that will further strengthen the bonds among network members. Your active participation in this event is absolutely indispensable for the success of your business.