CQR Seoul was selected to ship an oversize shipment of steel tubes from Kwangyang, Korea to Mawan, China
Due to its reputation as a provider of all-encompassing break-bulk services, Daewon Logipia was given the task of handling every aspect of the loading and discharging of this cargo.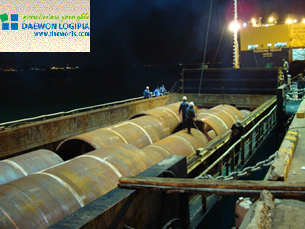 3,200mm diameter x 6,500 mm length
They provided lashing, shore cranes and their own stevedores, both dockside and shipside to load the tubes onto a chartered Chinese shipping line vessel before the final leg of the journey to Mawan. This is evidence that there really is no cargo that CQR Seoul's team of 35 cannot handle.