CQR Qingdao was chosen by LM Wind Power Co. Ltd to handle the shipping of 6 wind turbine blades from Tianjin to Alexandria in July 2012. This was not S.F. Systems first experience of such a shipment; they previously shipped 36 of these blades to Brake, Germany.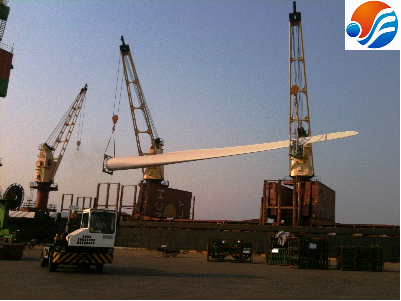 CQR Qingdao was charged with the picking, loading, custom clearance and shipping of this order by break-bulk. In addition to the two shipments already made by S.F. Systems, they have been nominated for a further contract consisting of 54 blades to be shipped to Germany early next year.
The dimensions of each blade were as follows: 34.4m x 2.59m and each weighed 5,781Kg.
You might think that concern about climate change would damage the freight forwarding industry, especially as initiatives such as 'buy local' and 'reduce your carbon footprint' become more popular. But it is clear that new shipping opportunities are opening up for the right forwarders in the renewable energy sector. With almost 15 years of experience and principles of responsibility, efficiency and conscientiousness at the centre of all operations, CQR Qingdao is certainly one of those.