CQR Surabaya recently transported 47 packages of mineral equipment, weighing 80,000KG from Shanghai to Sale Village, Rembang, Central Java via Surabaya Port. The shipment was moved to Surabaya easily, using the carrier MOL.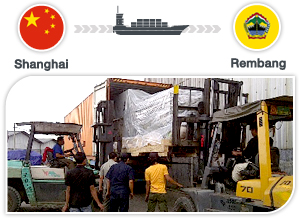 However, moving the equipment from the port to the village was another matter. The team loaded, lashed and secured the equipment onto 1×20'FR + 1×20′ OT + 3×40'HC. Due to the narrowness and poor conditions of the roads and the hanging electric and phone cables, this journey needed careful planning.
This shipment, although a headache on paper, thankfully was not in reality, thanks to the careful and meticulous planning of the CQR Surabaya team.