Conqueror is delighted to announce that CQR Kandla has been named FREIGHT FORWARDER OF THE YEAR for 2014 by India's pre-eminent industry publication, Exim India
The judging panel, of top decision makers from the maritime, cargo and logistics industry as well as policy formulators and regulatory authorities, scrutinised nominees in the following areas.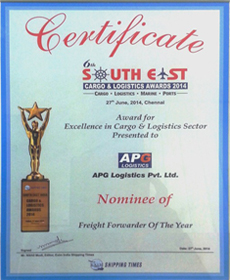 • Operational Performance
• Year on Year Growth
• Network
• Providing end-to-end solution
• Customer Satisfaction
• Branding
"It is, of course, a thrill to win any award but one which is judged by a group of such respected industry experts really is an honour," said Rajesh Kannan, APG's Managing Director.
Conqueror would like to congratulate the team for their achievements!