They were presented with this prestigious certificate by the Senior Director of the Australian Border Force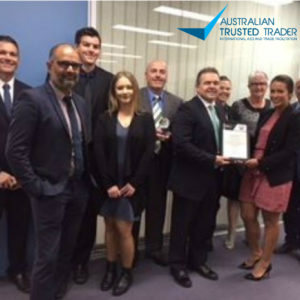 Our member in Melbourne became a part of Australian Trusted Traders on the 26th of December, 2017 and within just 5 months they also received the much-coveted Certificate and Dome.
This is a very significant achievement which is going to boost their business to a great extent and allow them certain special benefits with the Australian Customs which cannot be obtained by other freight forwarders of the country.
In the words of Stephen Mott, Managing Director of Braywin (Vic) Pty Ltd, "Receiving the Trusted Traders Certificate and Dome had been a substantial achievement for our company especially because of the fact that not many logistics service providers in Australia are Trusted Traders".
"We have signed all our clients up to be Australian Traders so that they can get all the benefits as well". Stephen continued.
Conqueror congratulates Braywin (Vic) Pty Ltd for garnering this prestigious certificate!